We always want the safest and mildest products to care for our baby. As a first time mom, I have researched for products that I have used on my daughter. From my experience, products that are made of natural ingredients are the best and safest to use on young children. No offense with commercial baby products because some are of really good quality and made with scientific experiment, but most contains harmful chemicals that we are unconscious of.
I have tried Live Clean Baby products before and made a review in this post. Eversince I have used Live Clean Baby, I can't get enough of it. Until now my daughter is using their products. I don't get surprised when I hear comments about how good smelling my daughter is whenever people were able to smell especially her head. And I don't have any hesitation to recommend Live Clean Baby products to others.
I was again given a great opportunity to review another good product which is the Live Clean Baby Diaper Ointment.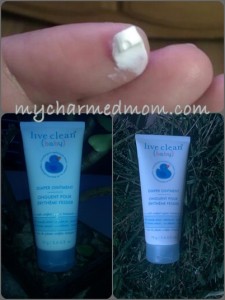 Live Clean Baby Diaper Ointment is naturally derived from sustainable ingredients including zinc oxide to help soothe baby's skin while providing an protective moisture barrier.

100% Natural, Sustainably Sourced Ingredients, 80% Plant Ingredients
Petroleum Free
Preservative Free
Paraben & Phthalate Free
Hypoallergenic
Pediatrician Tested
Live Clean Baby Diaper Ointment is very effective in terms of fighting diaper rash. My daughter actually doesn't experience diaper rashes frequently but during those times she had it, it becomes irritated and usually more difficult to heal. Now, I just apply the ointment during each diaper change and voila, the next day the rashes are gone. Aside from its efficacy, I was able to appreciate its scent. Made of Castor, Seed Oil, Tocopherol, Beeswax, Jojoba plus Lavender and Chamomile extracts, the combination has developed into a natural formula that soothes chafed skin while providing a protective moisture barrier.
Overall, Live Clean Baby Diaper Ointment is highly recommended for mom's who has infants and toddlers experiencing diaper rash. Instead of buying commercially available diaper ointment, this one is naturally-derived, made up of natural, gentle ingredients and has a gentle formula that is fit for young and sensitive skin. Its gentle formulation is enriched with certified organic botanicals making it beneficial not only for the babies but also the environment.
Baby Live Clean products are exclusively available at Walgreens and at walgreens.com – this collection is the answer for both mother's concerns and baby's sensitivities! Check out also their website at http://live-clean.com and their Facebook page.
Disclosure : I have received the above-mentioned products free of charge to facilitate an honest review. All views and opinions stated are purely my own and is no way influenced by the sponsor company.