*I was provided a  free sample for review purposes only. Thoughts are my own. 
 I have nothing but the best words for Live Clean (Baby) products. I have grown fond of this line since I have tried the first set of products they sent me. The ointment which which I have discussed in a previous review has been very effective in treating my daughter's diaper rash problem.
Every Live Clean (Baby) product is tear free, hypoallergenic, pediatrician tested and infused with Certified Organic Botanicals. The baby collection uses only plant sourced and non-petrochemical ingredients.
From the time I have tried their products I have been buying the Live Clean (Baby) line and even recommending it to friends. Many have asked and noticed how sweet smelling my daughter is, and the reason behind it is the Live Clean (Baby) Shampoo and Wash. 
I was happy to be provided (again) Live Clean (Baby)'s newest product on the line, Live Clean (Baby) Tearless Foaming Wash. Same as the other ones which I have tried, this foaming wash is formulated without the commonly used chemicals that are damaging to the environment and our well-being.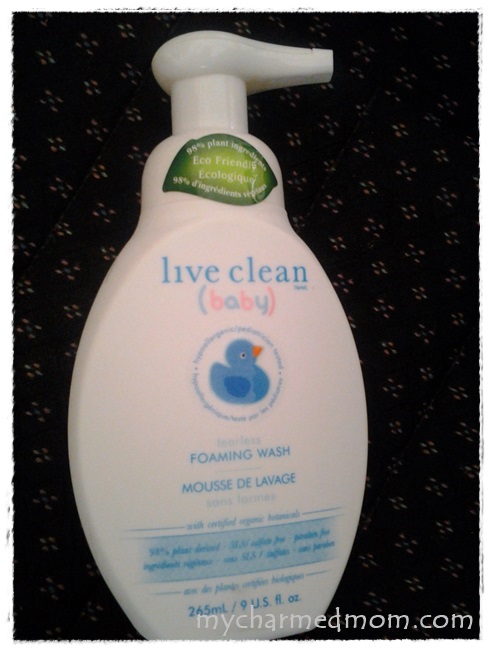 Live Clean (Baby) Tearless Foaming Wash is enriched with certified organic botanicals of Chamomile, Lavender and Aloe-this is where the subtle but sweet fragrance is coming from.  It pumps a gentle, rich foam at the touch of just one hand because it is enhanced with a convenient bath time friendly pump which eliminates the need to use both hands to lather the wash.
Petroleum Free
Paraben, Phthalate and Phosphate free
Live Clean products are cruelty-free which means that none of the products or their ingredients have been tested on animals. In its sensitivity to the environment, Live Clean is free of phosphates which are known contributors to water pollution.
Live Clean products are hypoallergenic.
The Live Clean Mission:

Go green without compromising performance. Our mission is to provide a line of products that contribute to a greener planet and perform at the highest level.  Live Clean Baby is a unique eco-friendly beauty care line that delivers exceptional results using natural and plant based ingredients.  Live Clean Baby formulations are made with a minimum of 98%* replenishable, renewable and sustainable natural and plant ingredients…as good for the earth as they are for your body.
My daughter loves this product, because it is tear-free, I can splash it all over her and not worry of irritating her eyes. Since it is also free of harmful chemicals, I am assured that her young and sensitive skin is not damaged. Another wonderful feature I adore about this product is its smell which leaves a long lasting fragrance of freshness.
Live Clean (Baby) is proud to announce the U.S. launch of this new foaming wash to its family, delivered with the Live Clean (Baby) promise of superior performance with natural, gentle ingredients.
The new foaming wash joins the impressive line-up of Live Clean (Baby) products available exclusively at Walgreens and Walgreens.com. A 265-mL bottle of the Live Clean (Baby) Tearless Foaming Wash has a suggested retail price of $6.99.
For more information please visit www.live-clean.com. You can also like them on Facebook.