They say diamonds are a girl's best friend, but the price tag on the real thing can be far from friendly. I may be naive, but  honestly I can't even tell the difference of a real diamond from an imitation. I won't be ashamed to admit that I did not receive a diamond for my engagement ring (maybe this will explain why I can't separate them lol), but rather a golden ring bond from my husband which symbolized our "agreement" to be together forever. Several times in the past when we were out shopping, we would check out jewelry shops and I tell you, I can't interpret the look on my husband's face when he sees the price of the piece of diamond jewelry I am checking out. But I made him promise one thing, that is to buy me a piece of real diamond jewelry-any type sometime in the future (when he can afford it).
There is actually an alternative to real diamonds if you can't afford them yet, say hello to Say Hello Diamonds, where you get the look of real for the price of faux. Say Hello Diamonds offers a wide selection of fashion earrings, necklaces, bracelets and accessories.
About Say Hello Diamonds :
Just like many companies, Say Hello Diamonds offers its customers quality products at the best prices possible. Jeannie Manzo's concept for this company derived from the fact that all women should be able to afford quality merchandise at a fraction of what they may pay at department stores. In addition, her products have the look of real diamonds and she takes the time to inspect each product to ensure that the quality is there. Because of her desire, her employees adopt the same philosophy which results in an over abundance of care that goes into every Say Hello Diamond product. This enables customers to benefit from Jeannie's care and integrity.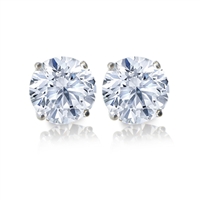 Say Hello Diamond's best seller, The Pantina Earring, have been featured on The Today Show and Good Morning America as picks for diamond studs that look unbelievably real but don't have the cost that breaks your wallet. Fortunately, I was given an opportunity to review the Pantina Earring, 2 carat studs (4 carat TW) and was really amazed of the earring's quality. The earrings were beautifully packed in a black velvet box, one wouldn't think that the contents are made of replica stones. Look at how the diamonds reflect the flash of my camera (with different distances), giving out the luster of real diamonds. The stones are also firmly mounted in,polished Sterling Silver and is secured by butterfly clasp backs.
The Pantina Earring is regularly priced at $195 on the site.  As for Say Hello Diamond's promise for quality, each replica diamond is polished and beautifully packaged and go through a rigid selection process in which weight, cut, shine and durability are analyzed before it can be called a Say Hello Diamond. Whether for everyday wear or for a night out, these are great earrings that you can dress up with since Diamond studs never go out of style!
So for those of you who can't afford a real one yet, this high quality replica from Say Hello Diamonds is a recommended option, definitely a thumbs up for me.
Say Hello Diamond products were featured on The Today Show; Good Morning America; ABC News; Fox News; and daily deal sites including Groupon, Eversave and KGB.
You can also follow Say Hello Diamonds at the following social networking pages : Facebook | Twitter | Instagram 
Disclosure : My Charmed Mom received the above-mentioned item to facilitate the review and was not compensated in any other form. All ideas and opinions expressed are purely my own.