Oats have many health benefits from reducing blood sugar levels to protecting the gut. You can find oats in many popular snacks, however they're usually processed to oblivion, removing all the ingredients from them in favor of added sugar and salt. By eating more foods containing whole grain oats, you can be sure to reap all the benefits. Below are just a few different ways to get more oats into your diet.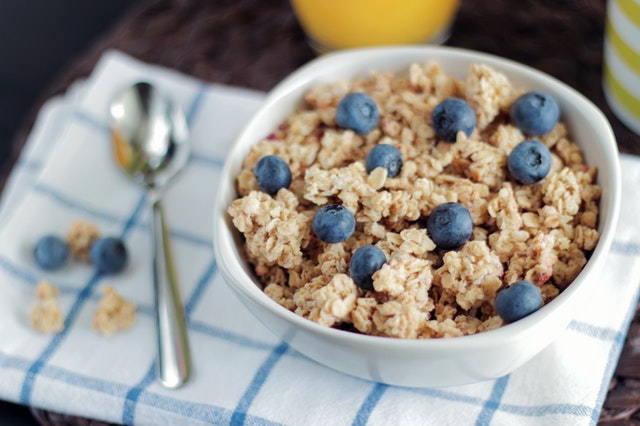 Porridge
Oatmeal porridge has long been a popular breakfast cereal. It's a great healthy way to start your day, as it's packed full of nutrients and will make you feel full. You can add all kinds of extra ingredients to oatmeal porridge to make it more exciting including honey, nuts and bananas. When choosing oatmeal, try to avoid heavily sweetened options (oatmeal cereals that use syrup or honey are usually a healthier alternative to those that use refined sugar). 
Muesli 
Muesli is another health breakfast cereal option that is often reliant on a lot of oats as well as often other whole grains. You can add all kinds of extra ingredients to muesli – add some crunch by adding walnuts and pecans, and add sweetness by adding honey and all kinds of fruit. Similarly, be careful with flavored muesli brands when cereal shopping.  
Cookies
You can also get oats from cookies – however we're not talking about your average store-bought cookies. By making your own cookies, you can be sure to use whole grain oats, as well as limited amounts of butter and sugar. These tasty anzac cookies are a great option worth trying and could be a guilt-free snack to eat throughout the day. 
Pancakes
For a healthy pancake recipe, consider using rolled oats. Mix these with banana, eggs, baking powder and a pinch of salt for a tasty and healthy breakfast option. If you want to stay healthy, avoid toppings like cream, maple syrup and chocolate and instead add toppings like berries and yoghurt or bananas and peanut butter. 
Granola
Granola bars could be another way to get lots of oats into your diet. Your average granola bar found in the store is unfortunately pumped full of sugar, so you're better off making your own granola. You can add all kinds of ingredients to granola, but if you're looking for a healthy option consider using oats, pecans, pumpkin seeds, coconut oil, dried cranberries and maple syrup. Other ingredients to consider could include apricots, coconut chunks, cinnamon, lemon zest or banana. You can add chocolate, but try not to add too much to keep it relatively healthy. Check out these strawberry oatmeal bars for an alternative to granola. 
Oat milk
You can also consume oats in the form of oat milk. This popular plant-based milk is less fattening than regular milk and is full of vitamins. Oat milk can be enjoyed with hot drinks like coffee or even added to cereals (you can use it with oatmeal or muesli for added oatiness). Most grocery stores now sell oat milk – give it a go next time you're shopping for milk.