In our home, our bathrooms are a significant component. After the kitchen, the bathrooms are the most used rooms, especially in the morning when everyone is scrambling to get ready for the day. As a result, the bathroom should appeal to a broader audience than just the household members. In addition, it needs to be stylish and comfortable for visitors to feel at home. You do not want your guests to walk into a tired and dismal bathroom when they arrive! The problem is that a complete bathroom renovation may be pricey. The good news is that you do not have to spend a fortune to update a dated bathroom. This blog post also has some excellent suggestions.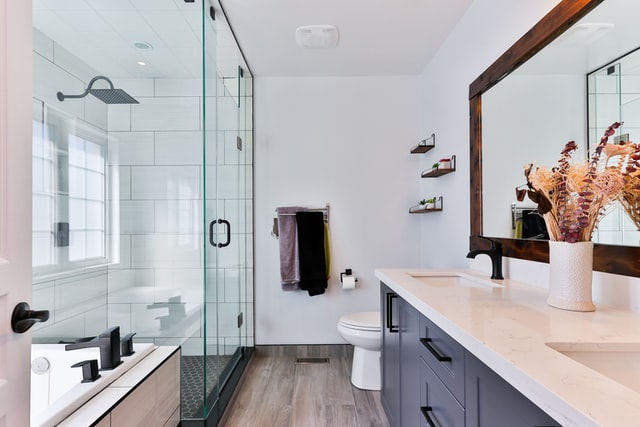 Renewal of storage space
Even a spacious bathroom might appear and feel claustrophobic and tight if it is cluttered with unnecessary items. Empty the cupboards and get rid of anything you have not used in the past few months. Pinterest is a great place to look for creative storage ideas. Adding elegant baskets and tubs to your cupboards and shelves can help you stay organized while also giving the impression of more room.
A new coat of paint can make a big difference
This holds true for nearly any room, but bathrooms, in particular, are prone to become dingy and worn out quite quickly. There is nothing like applying a coat of fresh, vibrant color to liven up a space. Accessories can be used to give additional color if necessary. Keep in mind that if you choose non-bathroom paint, it will fade quickly.
Get a new set of towels.
Adding a new set of brightly colored towels to a bathroom may have a dramatic effect. Take a moment to think about how you will display them: will you just wrap and arrange them on shelves or in boxes? For example, as a towel rack, old ladders set against a wall have become popular recently.
Re-grout the tiles
The aesthetic of a bathroom will never be improved by using shoddy grout between the tiles. A grout pen may be purchased at any DIY or hardware store for a modest price. Grind the old grout away before applying the new compound so that the surface is smoother and more appealing. This is more time consuming, but the end result is worth it.
It is time to glam it up!
For some, this is the most exciting part. Towel rails, toilet roll holders, door handles, and robe hooks are just a few of the inexpensive and easy-to-replace chrome accessories you may choose for your bathroom. Wall canvases, artificial flower vases, and candle vases can all add a lovely finishing touch. Adding a few succulents to a bathroom is also a terrific idea because they require very little upkeep.
As you can see, remodeling your bathroom may be done quickly and cheaply, even if you are limited on time or money. So, what are some of your best ideas for sprucing up your bathroom?