Summer is almost over which means that the season will be changing again. From my experience, changing seasons most of the time causes sickness or allergies, so it is better to take the necessary precaution by taking in vitamins that will boost our immune system.
Superior Source sent me a Vacation Travel Family Pack ($90 Value) which is packed in a very convenient travel case. (It comes with handle that will keep your Superior Source Vitamins in one place for easy access whenever you go on vacation)
The pack consists of the following :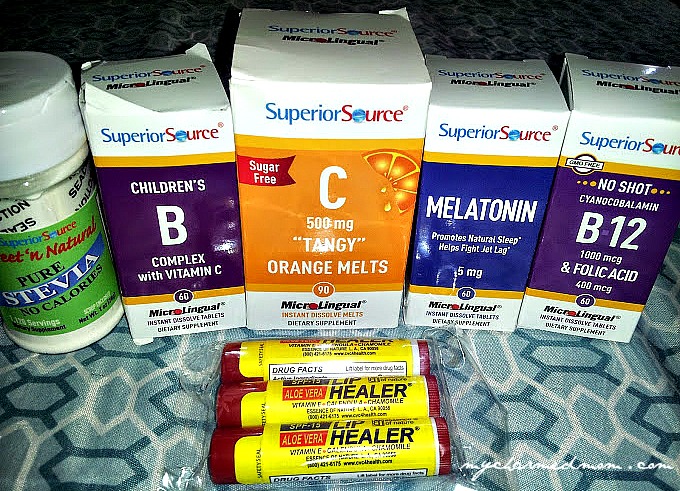 Vitamin B12 1000 mcg + Folic Acid 400 mcg: No Shot Vitamin B12 MicroLingual Tablets go to work

fast under the tongue. Other forms of Vitamin B12 supplementation can result in a loss of as much as

50% of the Vitamin B12 potency in the high acid environment of the stomach. Our B12 with Folic Acid

provides essential nutrients for the support of the heart and cardiovascular system.​

​
​​
Vitamin C Tangy Orange Melts: Vitamin C is an essential nutrient that cannot be produced by the

body, therefore it must be replenished daily. Vitamin C also provides support to the body's immune

system, very helpful in a season where people catch colds and flu. No sugar is added, these products

are only sweetened by stevia; this is preferable to most 'chewable' vitamin C products that are

typically loaded with lots of sugar.

​
​
Children's B Complex with Vitamin C: Children's B-Complex with folic acid, calcium pantothenate

and biotin is formulated to provide the nutrients that support optimal health for the production and

maintenance of new cells and supports nervous system health, energy metabolism, and healthy heart

function.
​
Melatonin 5 mg: Melatonin acts as a natural aid for healthy sleep regulation and the promotion

of normal sleep cycles during travel. Chamomile is an herb that works together with melatonin to

promote calmness and restfulness.
​
Sweet 'n Natural Stevia Extract is a naturally sweet dietary supplement used for both hot and cold

beverages and are 200 times sweeter than sugar. Studies have shown that steviosides, may support

healthy heart function, help to protect the teeth from dental caries and promote healthy blood glucose

levels. Superior Source uses of the finest raw materials and a unique blending process to produce the

smoothest tasting stevia available with no aftertaste.

​
​
Lip Healer 3-Pack: All Natural "Lip Healer" Lip Balm is Petroleum Free and contains Aloe Vera,

Vitamin E, Calendula and Chamomile to Sooth and Moisten Lips while providing SPF-15 protection

from the Sun's rays.
What Makes Superior Source UNIQUE?
Superior Source Vitamins are MicroLingual® – "Under the Tongue Technology" works fast, as they are quickly absorbed into the body, dissolving in seconds – NO pills to swallow! By swallowing supplements, as much as 50% of the potency is lost in the high acid environment of the stomach.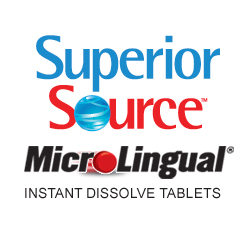 • "Under the Tongue Technology" means no swallowing
• GMO FREE and Sugar FREE
• 90% smaller than regular vitamins
• No chemical binders or fillers
Where to Buy?
You can purchase all Superior Source Vitamins at major retailers nationwide like Whole Foods and Vitamin Shoppe and major online retailers like, Vitacost, iHerb, Walgreens, Swansons and Lucky Vitamins.
The Giveaway
SEVEN Winners + FREE and Discounted Product for ALL Readers : EVERYONE WINS – ALL My Charmed Mom readers can receive 3 SPECIAL PRODUCT OFFERS by LIKING Superior Source Vitamins Facebook page
• FREE 60-Day Supply of Vitamin B-12 – 1,000 mcg (only pay $3.95 S&H)
• FREE Vitamin D – Any D product (baby, child, adult) (only pay $4.95 S&H)
• BOGO – FREE Vitamin C (Sour Cherry or Tangy Orange) – 500 mg – Buy One Get One Free!
Connect with Superior Source in their social media sites : Website | Facebook | Twitter | Retailers
Now for the best part, Superior Source & Mom Powered Media will give 7 Lucky winners, each get a "VACATION TRAVEL – FAMILY 6-PACK", $90 Value! Giveaway ends on 9/16 at 11:59pm est and open to US and Canada. Fill out the form below for entries.