Well, I can say I am into Spring Cleaning. We have been in San Jose for five months now and I can say I am still adjusting to the lifestyle of changing the type of clothes to wear every season. Back in my home country, we wear the same type of clothes the whole year round, so no need to worry about putting away clothes and using them again once the same season comes.
Since I have been away for 5 months, there's certainly a lot of cobwebs to blow away and a lot of dust to clean up. I'm ready to gut the house and give it a deep clean and discover some old belongings. I'm going to clean every inch of the house, including the exterior too. Well, I might get Clean Pro Gutter Cleaning Cincinnati to give me a hand with the gutters because I'm still not quite used to cleaning those but either way, this house is going to sparkle by the end of the big clean!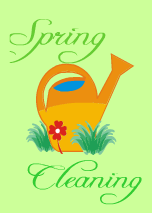 It might surprise you but I really don't enjoy cleaning and do anything to make it a bit easier for myself! I have rugs to reduce the amount of sweeping I have to do, I bought a robot that cleans messy windows, and I'm always putting off jobs that need to be done! But I can't get robots to do everything for me (yet!) so I have to suck it up and get on with cleaning and clearing the house.
While I was clearing the drawers, I also discovered my husband's abandoned CD collection which was just stacked on one of the drawers. I decided to segregate which ones I can sell to make some extra cash (with his permission of course) and which ones to keep for our family collection.
Next, house we're currently renting was built (from my estimate) maybe around the 70's. Because of this, some parts of the house were almost dilapidated and really needs some repair. The house's framework is still sturdy but some of the other facilities need some restoration.
One of the major concerns I have is the common restroom. The normal wear and tear of the tub left stains from the past. We have used a lot of cleaning products,claimed to be effective and strong but still, the stain can't be removed.
And so I saw from another blog a natural stain remover and upon searching more in Pinterest, I finally decided to go for it. It is actually a combination of some familiar household items like vinegar and dishwashing liquid.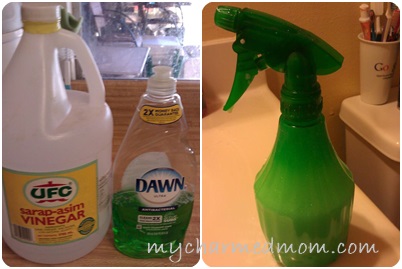 The vinegar ( I used Filipino vinegar, the only available in the house) was heated in the microwave for 90 seconds and then the two were combined in equal proportions then transferred to a spray bottle. It was then sprayed on the stubborn stain in the tub. I have left it for several hours before rinsing it-no scrubbing done! The before and after pictures below will justify how effective this formula is!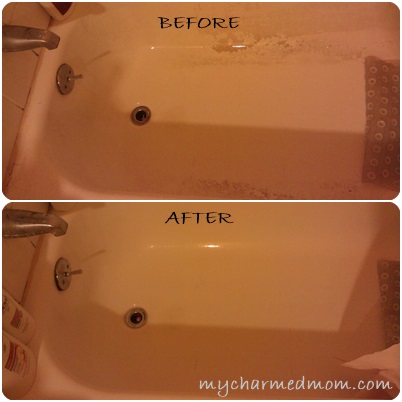 What about you what have you accomplished so far with Spring Cleaning?