With spring in bloom, and summer just around the corner, Christmas may be far away from many people's minds. However, there is no better time than now to start gathering some Christmas supplies and Christmas garlands, to help you prepare of the season. After all, not many people actually have time to shop for Christmas during the season.
One of the things that makes holiday so magical is that, houses seem to shine all through the night. It is a lot of fun to walk through the different neighbourhoods to see what kind of decorations that they may be featuring. It can be intimidating for a novice decorator to start but luckily there are some resources available to you. For some decorating ideas you can check here for some inspiration.
When decorating you do not have to go over the top, like many of the people showcased in design shows on television channels such as HGTV. Something simple and tasteful such as a Christmas garland might be just enough to showcase your spirit. If you do want to have the 'wow' factor there are several types of lights that may suit you. Try the popular icicle lights to sting from window sills and tress to give a great imitation of melting ice. Or use rope lights to outline your railing of you walkway. You can also use rope lights to wrap them around different objects to create a little bit of an accent or a focal point.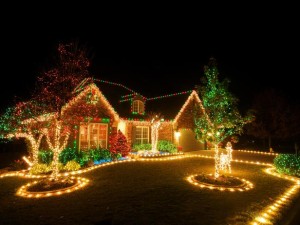 photo source: http://www.diynetwork.com/outdoors/outdoor-christmas-lighting-tips/
Christmas lights do not have to be gaudy, but can be a fun way to explore your creativity, and summer time is a great opportunity to stock up and save money along the way. You can also have the feeling of Christmas all year round but using the lights in decorating throughout the different seasons.