I was given the chance to review the Anyway Up 360 Junior Beaker so I could share my honest opinions about the product.
When is the best time to introduce sippy cup/glass to your child? According to some reads, it is advisable to give a sippy cup as early as 6 months. The baby may not get the hang of it right away but will have enough time to get used to it before switching away from bottles completely. My 26-month old daughter is still using bottles for night feeding. (Remember that I breastfed her for 19 months and those times, she did not drink from bottles, instead I used sippy cup for water and juices.) I left her for one and a half months in August and that's the only time she "learned" to use bottles that's why up until now, merely 7 months of using bottles, she can't let go of it yet.
When we moved here in San Jose, I have initialized her full transition to sippy cups/straw cups and I admit I am not successful in that area review YET.  Yet, because I know we will get there. I have bought all the different attractive cups (sippy cups, straw cups, training cups)  I can find in stores, all the designs she love to make her use it even ONLY during the day.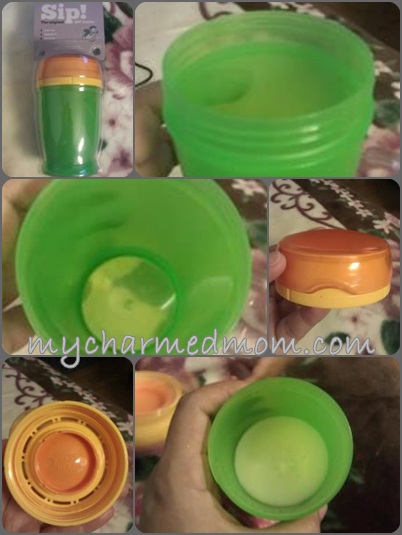 Then I was given the chance to try out Anyway Up 360 Junior Beaker.
The anywayup®  brand was created over 20 years ago by Haberman Products' Creative Director, inventor and mumpreneur, Mandy Haberman. Visiting the home of another parent and watching their children spill juice over the carpet, inspired inventor and mumpreneur Mandy Haberman into action to solve the problem of leaky toddlers' beakers. She set about designing a leak-proof trainer cup that sealed between sips.
The 360° Junior beaker is specifically recommended for children 24 months and above. Its innovative design of having a circular valve system allows drinking from anywhere around the rim which allows toddlers to practice drinking just like in a regular cup. A curious cat that I am, I have first tried using the cup, I was amazed at its feature because it makes drinking so easy. When I first handed it out to my daughter, she was hesitant and kept on investigating her new cup. And when she tried it, there was a smile on her face as she put the beaker down. Just like me, I guess she was astounded at how the cup worked.
The best thing about the cup (and I guess most moms will agree with me) is the spill-proof feature. My daughter sometimes have the tendency to play with her milk/water/juice and spread it on a flat surface-floor, table, etc.  With this beaker no matter how she tried the liquid will not go out. Another cool feature is that it is easy to clean and does not take the smell or flavor of the previous liquid it contained-whether milk or juice. I can say that its design is really clever and innovative.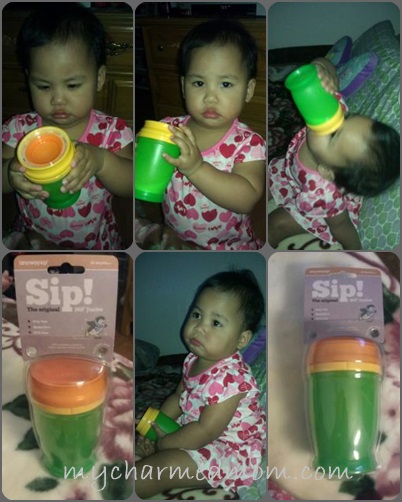 If you have a toddler who needs to be trained in sippy cups, or just want to be more of an independent drinker (or just want to have fun) then this product is highly recommended.
Actually you can check out more products that will suit your child's needs by visiting http://habermanproducts.com/. You can also check Anyway Up's Facebook Page and Twitter account.
Disclosure : I have received the above-mentioned products free of charge to facilitate an honest review. All views and opinions stated are purely my own and is no way influenced by the sponsor company