I have mentioned about Influenster in a post before and I was giddy with excitement when I received my first box which is a Holiday Box from them. The box came in late December so it really served as a Holiday present. Actually this post  is rather late for posting but I just can't help but share the cool products I got from the surprise box.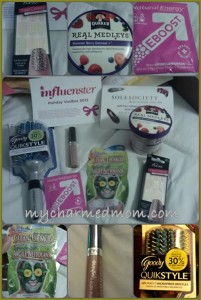 The box contains :
Goody® QuikStyle™ Half-Round Brush ($12.99 at Walmart, Target, CVS, Walgreens, Kroger, Duane Reade)
NYC Liquid Lip Shine in Nude York City ($2.49)
Montagne Jeunesse Face Masques in Aloe Vera and Willow (under $2.00 at Wal-Mart, Ulta, Kroger, Walgreens, CVS)
EBoost Energy Drink in Pink Lemonade ($28/20packets or $1.40/packet)
Kiss® Nail Dress™ ($6.99 at Kmart, CVS, Walgreens, Walmart, Rite Aid, Target-all mass retailers and drugstores)
Quaker Real Medley ($0.79)
25% OFF Coupon from Sole Society
I can say all the products in the box are of good quality and at the same time diverse in terms of choice. Honestly, what I enjoyed the most is the brush and lip gloss. In fact, the lip gloss had been a mainstay of my purse since the day I started using it. I love that I was given a nude color which is just my favorite.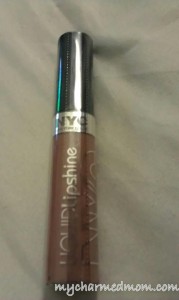 The brush of course, I use it every after shower, it doesn't dry your hair directly but the microfiber helps absorb excess water and speeds up drying of your hair.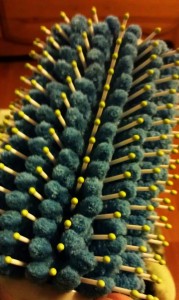 I haven't used the mask yet as I am still waiting for a perfect time, perhaps on my next "me' day, but since I have used that brand Montagne Jeunesse before only with a different variant, I am pretty sure that is effective. The Eboost and Real Me remained untouched, while the Kiss Nail Dress, has been given to a friend who loves nail art.
The Sole Society 25% off Coupon was applied on this item : Edie Ballet flat  ($49.99) with grosgrain ribbon and jeweled ornament details. ( I just love flats so much!) After the discount it went down to $37.49 plus shipping is free.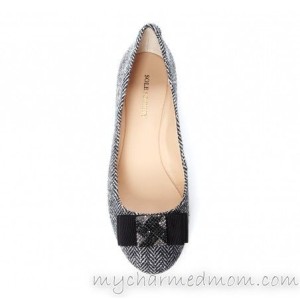 I received another box for January and I will be featuring it in another post. Meanwhile, I am excited for the next box coming which is the Sugar n' Spice box.
Check out Infuenster at http://www.influenster.com to find more wonderful brands and products.
Disclosure : I received these products complimentary from Influenster for testing purposes.