Bangkok, for the uninitiated, is a sprawling city home to around 22% of the Thai population. It is also the most visited city in the world right now, and it's little wonder. With its vast cultural history and a fusion of traditional and modern living, Bangkok is a feast for the senses for anyone who visits.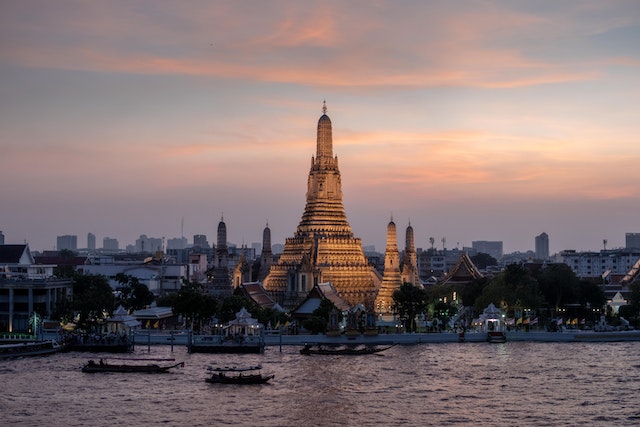 Yet, with so much to see and do when you head to the capital of Thailand, how do you narrow down what is worth your while and what you should be seeing? The main focus you should have is to see what you want to, not what you think you should be seeing. While guides like this can help find your things to do and alert you to what is possible, it will only be a worthwhile visit if you do what you want to do. For some, it can be simply immersing themselves into the way of life in Bangkok and experiencing it as lovers do; for others, it is filled with high-octane activities and explorations, and for others, a relaxed meander around some of the temples and cultural locations is deemed satisfactory.
If you need suggestions on the best things to do in Bangkok, this post has some worthwhile ideas for spending your time there.
Eat At Markets
You will be pleased to know that the Thai authorities have recently cracked down on rogue vendors and that many informal street markets have been closed for public safety. However, there is still a thriving foodie scene, and you can experience an explosion of taste by visiting some of the markets and mapping their goods. Be careful about your food choices to help you avoid any dietary indigestions ruining your trip. Stick to the more popular vendors and follow the locals as it is here they eat as this will be a good indicator the food is cooked correctly and tasty too.
Chatuchak
Chatuchak, or JJ market, is a weekend market home to hundreds of stalls selling wares that will delight your senses and lighten your bank account. Always bring cash with you to markets to avoid having to find an ATM, and ensure you take your time to browse it thoroughly. The market can take up most, if not all, of your day, so plan accordingly. If using public transport, the BTS Skytrain serves Mo Chit station, which is a 500 m walk away, roughly less than 10 minutes, depending on your walking speed.
Benjakitti Park
A 480,000-square-metre public park and green space (almost the size of London's Hyde Park) in Bangkok's Khlong Toei district. 
Benjakitti Park (or Benchakitti) opened in 1994 and was heavily renovated between 2016 and 2021. It now has new outdoor amenities such as organized bike lanes and running tracks, a sports center, and, most crucially, dog-friendly zones.
Benjakitti Park is popular for community activities, ranging from live music performances to other hobbies by hobby organizations, which you can join. A top tip is to visit in the evening when the lights bring the park to life for an added wow factor!
Grand Palace
The Grand Palace and Wat Phra Kaew make up the royal complex designed by former Thai kings. Consecrated in 1782, the sprawling complex has many palaces, temples, courtyards, and more, thanks to its one-time use as home to Thai royalty. While royalty no longer resides here, tourists are welcome to come and view such an intriguing part of the history, and it is the city's biggest tourist attraction.
Be aware that visitors must adhere to strict guidelines and rules and be dressed appropriately. Shorts are not permitted for men, and ladies should be covered, so a shawl is a good idea, or you might need to buy shawls or pajamas to enter this historical landmark.
Rest and Relax
If you want to take time out from your hectic schedule and rejuvenate yourself, Bangkok has no shortage of massage parlors, which helps to give it its title of massage capital of the world. Many well-known chains operate in Bangkok to help you ensure you get a truly relaxing experience. You can opt for foot massages from street vendors, entire body Thai massages, or even join a Bangkok ice baths group for the ultimate in refreshing and rejuvenating experiences.
It's a good idea to book ahead for your massage experiences as it can get busy, especially at the weekend. So look around to see what is available and get it booked to avoid disappointment.
Shopping 
We talked about the fantastic shopping experience you can get at Chatuchuk. Still, Bangkok is also home to massive, sprawling mega malls that almost merge into one giant complex that is the ultimate shopper's paradise. Whether you want to browse the goods on offer from street vendors between malls, get some tailored outfits, or simply experience all the retail therapy you can get your hands on, head to Siam Paragon, MBK Centre, or Emquatier for the ultimate shopping experience.
Chao Phraya River
Bangkok is situated along the Chao Phraya River, and the water is always a bustling place to be, with frequent freight boats, ferries catering to people across the water, and kids playing at the water's edge. Whether you choose to take a chartered boat tour along the river to watch the goings on from dry land, it is truly a spectacle to beyond.
If you visit at sunset, you will see Bangkok in a whole new light and watch the golden glow set behind one of the most stunning skylines in the world.
Bangkok has so much to offer visitors it is impossible to put it all into one post. For the travel curious who want to experience as much as possible from their trips, a vacation to Bangkok can delight the senses and allow you to experience life in one of the most densely populated cities on earth, and you will feel all the better for doing so. Do your research, travel light, pack well for the weather, and observe all cultural traditions, including the twice-daily national anthem, which will help you get the most from your trip.