Family camping is exactly what you make of it. When you tell your friends that you're going on a family camping trip, you'll be met with one of two responses- total horror or excitement. That's because most families that have been camping have experienced both.
If you're ready to get stuck in and make a great experience for everyone, that's what you'll get. If you go with the mindset that this will be hard work and tiring, it probably will be. So, in preparation for your upcoming camping trip, here are the top survival tips for camping with the whole family.
Book Your Pitch
The benefit of having a family tent is that you can get up and go whenever you want to. If you fancy a weekend away somewhere, you don't have to worry about booking a hotel. Having said that, there are certain things you need to consider when it comes to camping.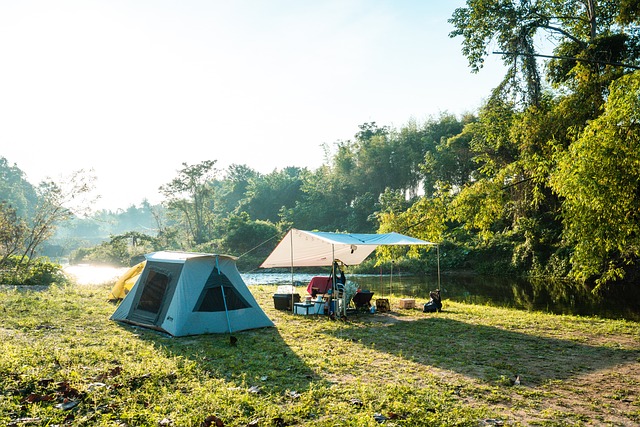 Booking a pitch could save you a lot of hassle when you want a quick adventure away. The last thing you want to be doing is packing up the whole family and driving around looking for somewhere you can set up your tent. When you know exactly where you'll be pitched, you can plan other aspects of your trip accordingly.
Consider The Weather
Even the hardiest of campers would have a miserable night in a tent in torrential rain. Experiencing the elements is what camping is all about but it's also important to stay safe and healthy. If you're planning on going during a heatwave, a tent air conditioner for camping is ideal for keeping everyone cool during the evening.
Camping can be physically tiring because most campers are active throughout most of the day. It's essential for everyone to be able to get a good night's rest when the day is over.
Make a Camping Checklist
No matter how long you plan on camping for, you may be surprised by the amount you'll need to pack. From bedding to cooking ware and camping chairs, you'll need to pile your vehicle up high. If you're camping with young children, your camping list will be even bigger.
For instance, you may need to take diapers, bottles, and a potty with you. The more prepared you are, the less likely you are to run into problems that will cause stress.
Bring Entertainment
Kids these days are used to being entertained at the click of a button. If they have a phone or tablet with them, they can watch a video or play a game whenever they choose. Camping is a whole different ball game and for many people, that's the point.
Remember to pack some entertainment for the downtimes on your trip. A pack of cards and a ball can help the family enjoy themselves for hours. There's usually a good camaraderie on camping sites too. Don't be surprised if your kids easily make friends with other campers and rope you into joining in.
Set Tent Rules
A few tent rules could make your experience of camping a lot better. For instance, no eating inside the tent. On top of the fact you don't want to be sleeping on anyone's crumbs, you also don't want to attract wildlife into your tent. It's not uncommon for wildlife to find their way into tents at night when they can smell food.
Similarly, it makes sense to ask everyone to take their shoes off before entering the tent. Camping sites can be full of mud in wet seasons and full of sand in dry seasons. Keeping both out of your sleeping space will ensure you have a clean space where you can rest and dress.
Don't Be Afraid To Bail Out
There are so many things that are out of your control when camping. Weather conditions, noise, a family member falling ill or having an accident. You may be determined to have a great camping trip but it's also important to know it's okay to bail out if you need to.
If the whole family is miserable because camping isn't working out, don't try and push through it. Head to the nearest hotel and salvage what you can or go straight home. There will be other opportunities to do it differently in the future.
Family camping can be one of those core memories that your kids always hold onto, no matter what happens during the trip. As long as you're all willing to make the most of it, you can't go wrong.