If you are a parent, you know it can be challenging to keep your kids entertained. Children have a much smaller attention span than adults, so they can bounce around from activity to activity without skipping a beat. While that is happening, parents have to wrap their heads around how their kids are doing one thing for five minutes and starting up another game/activity at a moment's notice.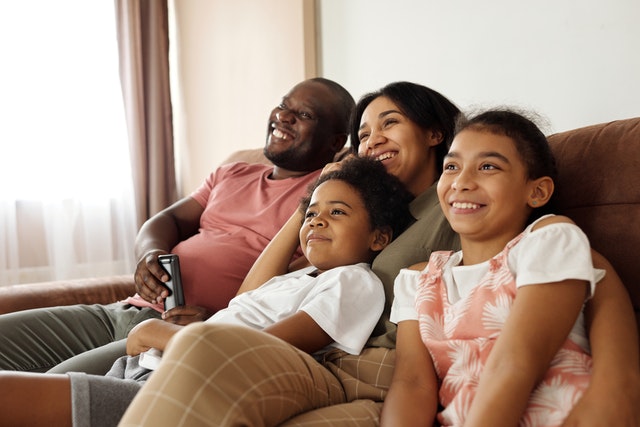 While it is all fine and good to have your kids entertain themselves by running around the house banging pots and pans, it can be beneficial to host family nights with a planned schedule of events. Now, obviously whatever that event is is up to you, but below is a list of five family nights that will for sure keep both you and your kids entertained.
Host A Backyard Movie Night
Watching a movie inside, in your living room is fine, but why not spice it up a bit! There is a good chance if you host a backyard movie night that your kids will have an extra pep in their step. The added excitement of doing something, like watching a movie, in a setting other than the home or movie theater can make for a very fun family night.
In the same breath, the movie selection is essential in making a successful family movie night. If you know your kids can not really sit through movies, it would be wise to avoid screening a three-hour film. If your family is a fan of horror movies, go for it! Set the tone by reading up on the various reviews and best horror movie quotes that you can find online. Choose a movie that suits the entire family's taste. Make sure you pick a movie that everyone will be sure to enjoy for a entertaining movie night!
Family Game Night
This may be the most obvious of the five, but family game night is a classic staple. That may make it seem like this is a boring, overused way to keep your kids entertained, but that is far from the truth. You get to decide what games you want to play, from Monopoly to charades to Apples to Apples.
Family game night can truly be a blast, the pieces are all there. You just have to be the one to fit them together. And if there is a fuss about who goes first, you can always do a coin toss to see whose next in line so there is no 'family fighting'.
Pizza Night
It will be hard to find someone that does not like pizza, especially kids. The cheese, the crust, the sauce; delicioso! Now, imagine telling your kids that instead of ordering pizza one night, they will be making their very own homemade pizza right in your kitchen! They will for sure be excited.
The only problems with pizza night are: you, the parent, has to know how to make homemade pizza, and there will more likely than not be a gigantic mess to clean up after all is said and done. Still, there are plenty of homemade pizza making directions to look up, and you will have your kids around to clean up their mess.
Ice Cream Sundae Bar
Just like pizza, you would probably have to look far and wide to find a child that doesn't like ice cream. With that being the case, you can see why your kids would be ecstatic to hear they will be doing a, "make your own sundae" in the comfort of their home!
There are truly a lot of directions you can go with this. Maybe instead of sundaes, you make shakes. Maybe the family tries to create their own style of McFlurry. Or, maybe you just go out and buy all the tubs of ice cream, candy, sprinkles, and Cool Whip you can. Whatever way you decide to go is up to you, just make sure that you are going to have some sweet treats for yourself.
Go To An Escape Room
Out of all of the five great family night ideas, this would be the most difficult. Why? Well, there is a lot of coordination involved that includes forking over more money than you would if you had a movie, pizza, ice cream, or game night. Still, that should not dissuade you from at least considering going to an escape room.
Escape rooms have the chance to be such a great experience. Where, and what room you decide to go in should be highly influenced by the age of your kids, but whatever the case, it will be fun for you and your family to look around to try and escape the room!