I must admit, I am not so much a fan of high-leveled shoes. For some, they say that  heels or even wedges make them stand taller and smarter, not in my case, I find it difficult to balance, makes me slouch and feel uncomfortable.
When it comes to shoes, I will not trade anything for comfort. As you may have noticed, wedge sneakers have become a trend recently, and when I saw some famous celebrities wearing it, I couldn't help myself but ask, is it really comfortable?
It is a good thing I was given a chance by Upere to review one of their wedge sneakers, so that I can share my thoughts about the shoes to my readers.
Upere is a new fashion brand established in 2012. It is mainly specialized in producing high-end and trendy wedge shoes and wedge sneakers for women at different ages.
Intrigued, is my initial reaction upon receiving the offer from Upere to review their wedge shoes.  But I considered, since it's a sneaker and thought, with a sneaker, it can't go wrong…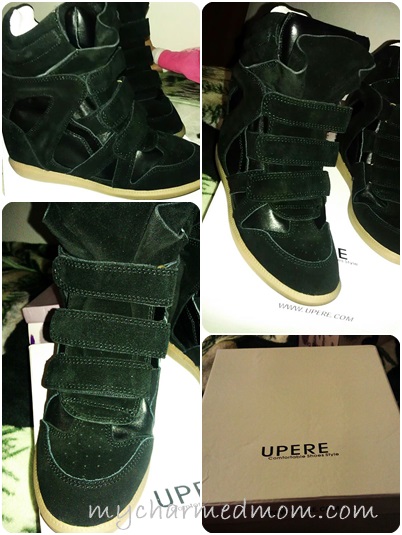 Upere draws upon its distinctive blend of experience, inspiration, and experience in order to make a great achievement in footwear industry.

….We promise to make wedges that can both show women's inner beauty and be conductive to the health of your feet.
This black wedge sneaker features black upper made of suede material, including a black tongue. It has an oval toe cap which has 3 Velcro straps-so need to bend over and worry of shoe laces to tie especially for a mom like me who has a toddler. Aside from that, it has an anti-slipping rubber sole which makes it safe most especially when carrying babies/kids.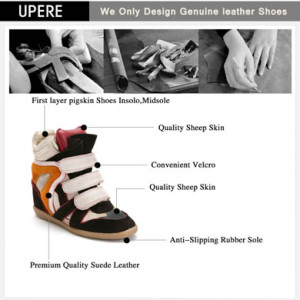 True to my amazement, when I saw the shoes, I wondered where could possibly be the wedge located inside the sneakers? But when you slip your feet inside, it conforms to the form of the wedge with such a relaxed fit giving you additional 2 inches (50mm) in hidden heels.
It's a bit surprising how comfortable it fits. The leather materials and sheep skin it is made of feels cozy and pleasant to the feet. It is too comfy that you can wear it for walking everyday. The fact that aside from the comfort, these shoes are also stylish and versatile. It can be paired with your favorite skinny jeans, shorts for summer and skirt or dress-the options are limitless.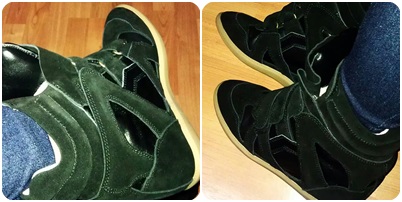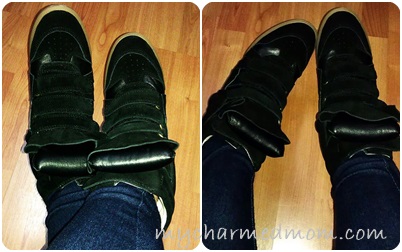 Actually I am looking forward also to using these wedge sneakers when winter comes, with the quality of how it is made and the amount of craftsmanship applied on it, there's is not doubt that it can be used no matter what season of the year it is.
Find out more color choices and styles by visiting the Upere website, and for My Charmed Mom readers Upere is offering a 15 % discount code for any wedge sneaker on their website. Use Discount Code: UPERE.
For any other updates, you can follow Upere in their social media channels :
Facebook | Twitter | Pinterest