Although the time when you propose and marry the love of your life is one of romance and excitement, there are also expenses that quickly arise that can seem overwhelming to the average man. Your fiancée may envision the perfect ring, while you think that a ring out of the Cracker Jack box would do. The reality is that most men don't understand why women love diamonds and sparkly things, but the smart ones simply do their best to find what she wants. But you don't have to break the bank with your engagement ring – just look at the price difference between hazy and cloudy diamonds! The lower quality might be worth it just for the cheaper price. You can propose with a beautiful ring that doesn't jeopardize your future from the beginning.
Shop Online
Buying your ring online from a reputable dealer, similar to jacobs the jeweller may seem to take some of the romance out of the equation, but the money you can save will quickly make up the difference. Online shopping has allowed consumers to have more options to shop around, and forced retailers to lower prices in order to remain competitive. Buying online doesn't have to equal generic either, as companies like Kimberfire, who operate both online and in-office, offer a custom ring service so that you can truly create the perfect ring for your lucky partner. In 2010, consumers spent around 1 billion on rings that were purchased online.
Purchasing from an online jeweler does have its drawbacks. Customers should be wary of smaller dealers, and always choose retailers who have their stones reviewed by gemologists. Focus on retailers who have several avenues of communication, and avoid any that you have a hard time getting hold of, no matter how low the cost.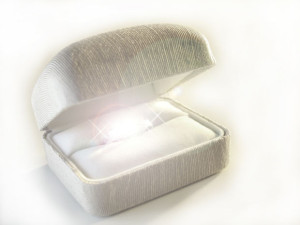 Buy a Smaller Stone
Some people believe that the size of the stone in the ring determines how much the husband loves the wife. But a husband who is focused on the financial security of the future will recognize the wisdom in purchasing a diamond that is a fraction under a carat. Some couples use one carat as the benchmark for diamond size, but subtracting a fraction of a carat from your diamond may save you as much as 30% on your total cost. You may notice the difference in size, but nobody else will. If you're worried about the size of the stone, you could always ask the jewellers if you could try it on. There are lots of online jewellers such as Green Diamonds, who have very flexible returns policies so this shouldn't be an issue even if you're shopping online. You might even end up preferring a ring with a smaller stone in! If you never try, you'll never know.
Be Unique
Choosing a setting that is less than traditional can save you money. A smaller stone with an eye-catching setting will offer a lower cost and a unique look for your fiancée. The setting of the ring, along with the additional stones, can create a look that is beautiful without costing you a fortune.
An engagement ring should be a symbol of your love and commitment to each other, not something that drags you down into debt and ruins your marriage! The first step in financial wisdom for your marriage is purchasing a ring that looks great that you can afford.
*Article courtesy of Shane Co.