I was given a free Personalized Tote Bag by Posy Lane to facilitate this review. 
I have always loved totes, that is because I always carry a lot of things in my bag whenever I go out. I always make sure that I have everything handy whenever I need them, For my bag preference I always choose the bigger ones most especially when I had my baby. Most moms will agree with me when I say that when I became a mom, I have replaced my personal stuff with baby stuff in terms of the contents of my bag. The bag slowly transformed and now became a diaper  bag.
One fact about me, is that I also love personalized things. I think personalizing adds identity to a simple object. That is why I was glad when I was asked by Posy Lane to review one of their products.
Posy Lane Inc. is the brainchild of Kerrie Barton way back in 2007. The company is located in downtown McKinney, Texas and became the locals' source of unique gifts and invitations for every occasion, as well as printing and embroidery services. After 2 years the company decided to close its physical doors and entered internet marketing which gave them the opportunity to work from home. The company right now offers the finest products with the biggest selection from bath wraps, stuffed animals, tote bags, travel bags, plates, books, sunglasses and almost anything that can be personalized.
I chose to review one of their initialed tote bags, the two-tone Lime and Canvas Personalized Tote Bag. The bag is made up of 100% cotton canvas and is a large capacity tote. Initially you can already say that the bag is made of quality material, is tough enough to withstand stuffing and hauling.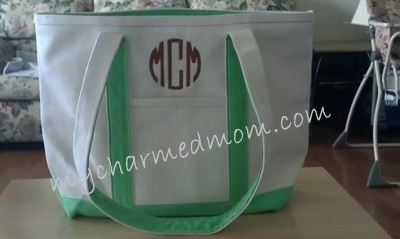 From the pictures below, you can see that the bag has so much space that you can actually use it for a lot of purposes. For this review of course I have used it as a personal cum diaper bag. I have used it on one of our trips to the outlet stores, and believe me when I say that it carried our half day's needs including my daughter's bottles, extra clothes, diapers, baby wipes, etc not to mention other personal things like my wallet, powder, sunglasses and bottle of water. As you can see the bag is almost full to the brim but sure it was able to carry all the weight. During shopping I was still able to put inside some things that I have bought. This tote because of its durability also served as a shopping or grocery bag  a few times since San Jose is a BYOB (bring your own bag) area.
Maybe you have noticed the bag's embroidered design, those are actually our initials. Me, my husband and my daughter all have the same and I thought of using it instead of a name to personalize this tote.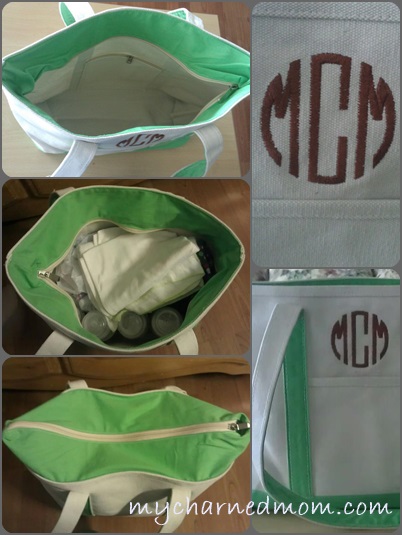 My overall experience with Posy Lane is a good one. From the personalization (I get to choose from a vast variety of fonts and styles, I want to use them all! lol) to the delivery of my order which is fast and timely, up to the quality of the end product.
If you want your things personalized or give personalized gifts, then I recommend you check out Posy Lane, you can also like their Facebook Page to know the latest updates.