Bags are a woman's everyday staple. From my point of view, a bag defines the kind of lifestyle and way of living one has. Like for me, when I became a mom, I cannot go without having a bigger bag that will carry all of my and my daughter's things.  Having said that, I now go more for totes and big hobo bag types.
I was provided a free Campus Tote by Maggie Bags to facilitate review and share my honest opinion to my readers. 

More than the functionality and design of a Maggie bag, what I am more impressed is the material each bag is made up of. Guess what it is? If you guessed  seatbelt, then you are right!
Maggie Bags™ launched its first line of seat belt  in the spring of 2009. What started  with a handful of retailers and an online store, its fashionable and functional seat belt purses can  now be found in hundreds of retail locations across the United States, that also includes many online retail stores. See more of their story here.
Since I prefer totes, I chose the Campus Tote which is part of Maggie Bags' Premiere line. I chose the one in Cranberry for a bolder and brighter bag for a change since I always go with neutral colors for bags.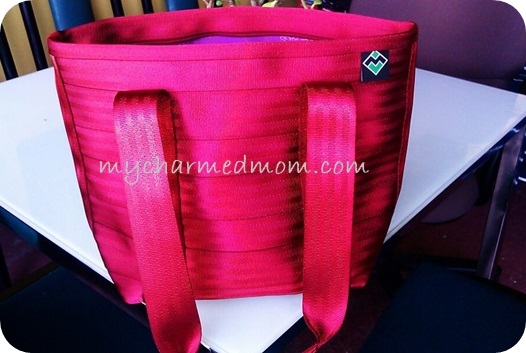 From the exterior to the interior you can actually see the kind of craftsmanship applied on the bag. First is the kind of material it is made of-which is durable seatbelt. Second, the seams are so clean, you can never guess where the pieces are brought together and lastly the reinforcement that goes with the bag's design and style which can endure the tote's heavy capacity. Maggie Bags also has a unique purple satin lining that adds identity to the bag not to mention that it also has a zippered pocket, cell phone and key pocket thus making the bag multi-functional.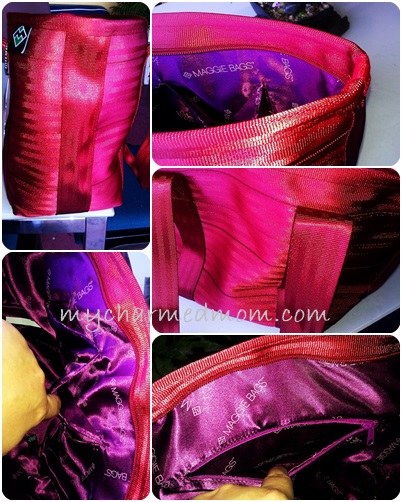 As a mom with a toddler, this bag is a perfect fit for any family activity we have because it can carry my stuff together with my daughter's plus with all the other compartments, I still have space for other things. This bag is also machine-washable. And since having a kid around will not prevent a spill here and there, the most common stains can easily be removed by using mild soap and warm water so that make Maggie Bags easy to maintain.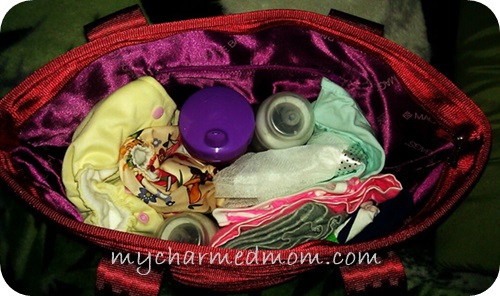 This Campus Tote never fails to get some attention from the people who sees it. The first time I went to church service with it, I was asked what's the bag made of and where to buy it. The Campus Tote retails for $85 at the Maggie Bags website.
Here's a special treat for My Charmed Mom readers!!!
You can use the Discount Code: Charmed15 to get 15% off Maggie Bags Premier Line until May 18, 2013. (This code is case-sensitive.)
And in case you want to get the chance to WIN one Campus Tote, then you can join this Mother's Day Giveaway which will run until May 18.
You can check for updates in the following Maggie Bags' pages :
Facebook * Twitter * Pinterest * Polyvore