Having a child is what my husband and I prayed and wished for. I guess most married couples feel the same way. Would you believe that I already had a hunch that I was pregnant maybe after 24 hours my daughter was conceived? I don't know but my body just told me that "something" is happening. I started getting clumsy and dropped things which didn't happen before. I also started experiencing short but light fainting spells which later on became nauseous and then eventually developed into morning sickness. Oh boy! I think this is the most gruelling part of all.
I vomit everytime food touches my stomach, even if I like the food so much and enjoyed eating it, eventually it will all go out. I was worried since I know that I needed food and not just supplements in order for the baby to also have food and continue developing. But then I still tried to eat normally praying that at least some food still stayed in my tummy for my baby's nourishment. I was exhausted all the time and needed to stop from my online job as English tutor because I cannot control the circumstances. My classes were either disturbed (because I needed to go to the bathroom and puke), terminated early because of the vomit spells or cancelled totally before it begins because I can't conduct a class.
My doctor became worried when during the time when I was supposed to be gaining weight, mine was dropping. In fact, I reached my ideal weight during that time which is unachievable among any other time. Just when I wished I was gaining, I was losing weight fast. I really cried during the peak of my morning sickness episode when in one week my weight dropped 5lbs. I dreamt of losing that much weight in a week but apparently it happened in the undesired time.
My morning sickness lasted for almost 5 months, just when my baby bump started becoming obvious. I just woke up one day and remembered I didn't wake up in the middle of the night to vomit. I dared to eat breakfast that morning and was surprised to feel full. No puking after meals and in between meals, it felt great!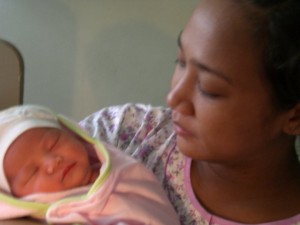 When my baby's movements became more profound, I soon forgot about all the misery my morning sickness brought me. Much more when I saw her the first time, all the pain, stress and everything I have been through since the beginning of my pregnancy disappeared into thin air. I guess we all have our own unique stories to tell and as a mom I am still dreaming of having another child in the future. I would like to wish for multiple birth but I don't know if I can take the challenge of nurturing two at a time. So I salute those moms who do :
Multiple birth is a joyous occasion that is understood and cherished by Little Me. They understand that expecting a multiple birth is both a magical and a worrisome time in your life. They would like to help you focus on the double (triple, quadruple or more) adorable smiles and giggles you'll have coming to you in droves! To make things just a little easier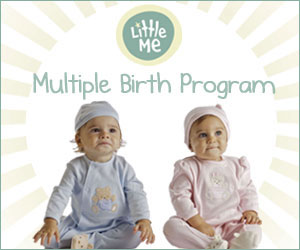 Little Me would like to offer you a "Welcome to the World" gift after your children's births. To receive your free gift please register for the Multiple Birth Program.
Enter now to WIN a $100 Little Me Gift Certificate (or Paypal Cash)! Giveaway is open to US residents, 18+. Ends 3/11 at 11:59 PM. Good Luck!
Disclosure: I received compensation for this publication. My opinions are my own and may differ from those of your own. My Charmed Mom is not responsible for sponsor prize shipment. Please contact [email protected] with questions or to see your business or blog featured on the next big event!