The Easter Bunny is an iconic symbol of spring – the season of rebirth and renewal. And Funny Bunny® from Treat Street® is the lighthearted and humorous twist on this classic image. The spring-activated wind-up Funny Bunny has pooped its way into the hearts and hands of candy lovers young and old – selling more than five million bunnies since first being introduced in 2006.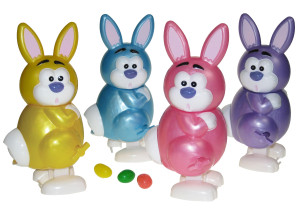 The collectible Easter Bunny novelty that poops out delicious jelly beans has been updated over the years with new colors to increase the collectability factor. Most recently, four pearlized tones have been added in gleaming iridescent shades of yellow, light blue, pink and purple. A Funny Bunny nestled among the chocolates, Easter eggs, and green grass has become a tradition among collectors and anyone who appreciates fun and humor. This is precisely why it "winds-up" in so many Easter baskets.
Funny Bunny was the company's first foray into candy poopers. Since Funny Bunny first exploded onto the scene seven years ago, Treat Street has further developed their original concept and now offers Zoo, Pet, Sport and Monster Poopers. Treat Street made a big splash in the political world in 2012 with their Political Poopers, wind-up toys of Mitt Romney and President Barack Obama who poop red, white and blue candy.
And on the horizon look for seasonal poopers for Halloween and Christmas plus Robot and Pirate Poopers. Funny Bunny is available nationwide at gift and specialty retailers. For a complete store list, visit www.treatstreet.com.
Treat Street will be providing the Easter treats I will be giving away for the Lucky Bunny Giveaway Hop which will run from March 26-31.