Wow, it is just like less than 3 weeks before Christmas and perhaps by this time most of you are almost done or if not, cramming up shopping for your Holidays gifts. I am pretty sure that each year we all want to give maybe not the most expensive but the best gifts to our loved ones.
I have mentioned before about a great gift idea for kids and an awesome opportunity to save up for your child's college education. Right now for some of you who still might be needing some gift scouting, here's a simpler but definitely a better way to stuff the stockings this season.
GradSave in its aim to help guarantee your child's promising future with education is still offering a $10 off if you purchase a gift card.
And for the Holiday season GradSave is offering physical gift cards if you prefer, so it can be used as stocking stuffer plus they will ship the cards to you for free. How cool is that? To get more information and get your gift cards as soon as possible you can check information here.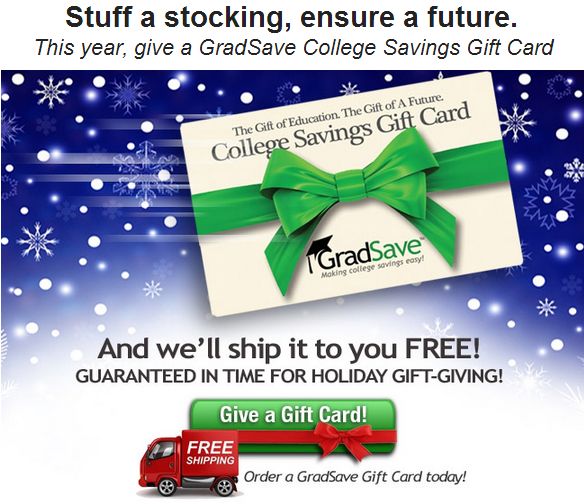 Let me also remind you that the $10,000 Scholarship Sweepstakes is still live and will end on December 31st, click here to read some details and here for your chance to win.
Nothing is greater than giving gifts which can make a large impact on someone's life. I know that gift such as this will definitely be well appreciated and remembered for a lifetime. Right?