My daughter as mentioned in some previous post is somewhat hairless. As much as I want to adorn her with other accessories like clips and buttons, I have nothing very little hair to clip it to, and that's where my fascination with headbands started. I am a regular of ready-made headbands which can be conveniently bought in stores but for some special occasions I also choose to order custom made headbands.
I had the privilege to review this cute headband from Bondi Band. We were sent a Princess Peach Burst which came out as light orange with a soft tulle ribbon as design.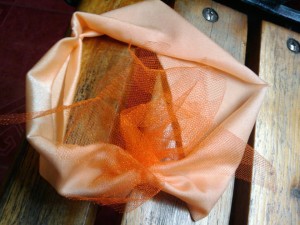 One thing about the headband which I like best is that it is made of soft and light weight, stretchy material so it gives the head a good fit. It is also made of breathable fabric (unique blend of nylon, lycra and spandex) thus making it suitable for babies and toddlers because of its comfort. (You can see from the photo above how thin the band is).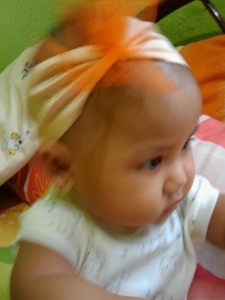 Ceana doesn't favor wrap around bands because she feels uneasy having something wrapped around her head especially if the band is made of thick fabric. That's why I rarely buy wrap around bands, but this one didn't really bother her. I can attest to it, standing proof is the long time she wore it even while playing. I had the assumption that she actually forgot that something's in her head!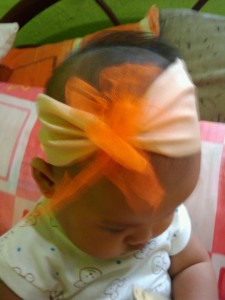 More about Bondi Band :
Bondi Bond combines comfort and style (Where Fashion Meets Function) and guarantees quality on each piece of product they make. They have a wide variety of products (for men, women, boys and girls) to choose from, starting from headbands, armbands and wristbands, hats, towels, neck gators. You can also opt to customize your own design/message in your bands for any special event, project, party or promotions etc for a minimum of 12 orders on any  Bondi Bond product. They also offer Match Your Buddy bands which are perfect if you have a pet and want matching bands.
The best thing about Bondi Bond is that they give back whatever hard earned profit they had and donate 10% of their pretax earnings to  a charity each year. For this year they have chosen Dana-Farber Cancer Institute (DFCI) which is a Comprehensive Cancer Center designated by the National Cancer Institute. It is a major affiliate of Harvard Medical School and is located in Boston, Massachusetts. So you know that for each item you purchase, a part of it goes to a good cause.
You can check out Bondi Bond's website plus their Facebook and Twitter pages for more information about their products.
*My Charmed Mom was not compensated for this post. I was provided with the product mentioned above  free for review but it has in no way affected the outcome of the post all the views expressed are my own.