It's official, I am a Don't Sweat Mom! It is actually a privilege to be one of the first moms to be given the opportunity to read this book. As a first time mom, a newbie that is, there are way so many things to learn, explore and discover. From diapering to feeding issues plus now that my daughter is already a toddler (almost 18 months), the new task of instilling discipline and values arises. The first thing that crossed my mind is "This is what I really needed…" and indeed it is. In this first new Don't Sweat the Small Stuff book in nine years, Kristine Carlson shows how moms can live with less stress and more happiness. Carlson gives mothers tried-and-true advice that will empower them to find greater peace, joy, and harmony within themselves and their homes. Don't Sweat the Small Stuff for Moms reveals how to:
* Be a Mom, Not a Friend
* Balance Being a Woman and a Mom
* Pursue Your Passion, But Not at the Expense of Your Children
* Reclaim Your Family
This book Don't Sweat the Small Stuff for Moms is composed of 326 pages of worthwhile information. Just like a Mom Bible it consists of 100 Chapters (with only 2-3 pages), so you can just grab the book and squeeze in a little time for yourself and enjoy a chapter in as little as 5 minutes. The author, Kristine speaks in a concise and effective manner meant and suitable for moms. The book discusses a wide variety of topics all about motherhood and tips how not to sweat t the small stuff. Honestly I haven't read the whole book yet as I am planning to read each chapter as when I  feel the need arise. If you will ask me though about the chapters that I like the most there are actually a number that I have to mention  :
The Power of Prayer Is In the Asking

You Are Enough As You Are

Be The Example You Want to See

Feel Sexy from the Inside Out

Heal your body image and love your curves

Laugh (when all else fails)

Surrender, trust, and let go
But I should say that my favorites are :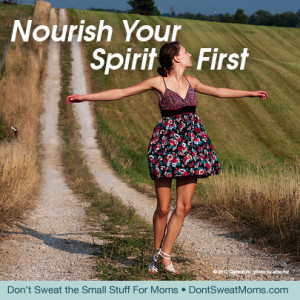 Nourish Your Spirit First. My Thoughts : In anything it should be "ME" first. Not that we are being selfish but it is reality that we cannot give out to others what we don't have within ourselves. Just like a lighted candle we cannot emit as much light into the darkness if we're not burning inside brightly. As moms, our spirit should be nurtured and alive, and never exhausted. Our bodies may be tired a lot of times but not the spirit within us. We can only give as much love and nourishment  if we love and nurture our self first.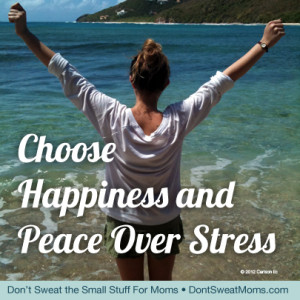 Choose Happiness and Peace Over Stress. My Thoughts : Oftentimes, we get too stressed out over trivial things in our everyday life-scattered toys, spilled milk, dirty clothes and the list goes on. And we choose to be agitated by these small things rather than enjoy what we have. We submit ourselves to chaos, and permit ourselves to be governed by such negativity. On the other hand, if we let go and move on, we let go of stress in our life and let peace take over. Yeah, I know it is easier said than done but come to think of it, if we try to breathe some fresh air before going back to a heated situation then we are saving our family relationships and adding more years to our life.
Remember we are not perfect though we always try to be. We are still humans and we commit mistakes. Motherhood is not an over night flick, it is a life long journey to be savored and enjoyed.
And lastly, here are some tidbits about parenting in general taken from the book : "When it comes to parenting, more isn't always better. "When you give too much to your children, you're not allowing them to feel the satisfaction that comes from making life better for themselves. Some struggle is good. Encouraging our kids to earn their privilege through hard work is one of the greatest gifts we can give them."
Hope this all makes sense.
You're invited to join a community of moms coming together to stress less & choose happiness more check our Don't Sweat Community and become one of us. Be part of of our Facebook and Twitter Family and share your own experiences.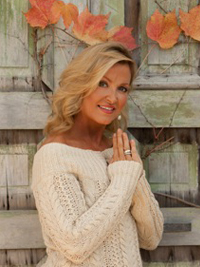 About Kristine Carlson: Kristine Carlson is an international bestselling author and a leading expert on love, success, grief, happiness, and parenting. Along with her late husband, Dr. Richard Carlson, Kristine has experienced phenomenal success with the "Don't Sweat the Small Stuff" series. Kristine has been featured on national radio and television broadcasts, including The Today Show, Empowered Living Radio, The View, and The Oprah Winfrey Show.
If you want to get a copy of the book, Don't Sweat the Small Stuff for Moms is available on Amazon at $11.99 you can buy it also at Barnes and Noble. You can also get the First Chapter FREE or if you want a FREE BOOK, My Charmed Mom is giving away 1 copy of Don't Sweat the Small Stuff for Moms. You must be 18 years of age or older to enter to win. This giveaway is open to U. S. residents only. We're not going to sweat it here and the mechanics are simple. All you have to do is fill out the Rafflecopter form below: Include your email in the comment as well. That's it, no sweat.  Giveaway ends on July 2nd 11 :59 PM EST. Winner's information will be given to the sponsor for prize shipment.
My Charmed Mom received this book for the sole purpose of this review, however all opinions and views stated in this post are mine.  No compensation has been or will be given for this review and giveaway. My Charmed Mom is not responsible for sponsor's shipments.