*Flatten Me sent me a Twinkle Toes Personalized Shirt for review. Thoughts are my own.
My daughter is greatly influenced by what she watches on television. Most of the time she mimics what she watches. One time I saw her trying to execute a piroutte just because she is imitating Angelina Ballerina!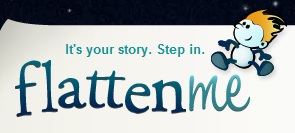 Flatten Me is a company that produces personalized stuff-initially books then expanded to t-shirts, wall art, cards and water bottles. They believe that each child has a story to tell and once in their wildest imagination has became part of a different world.
It is in this world – one of imagination, inspiration and gifts of the heart – in which flattenme was born. We seek not only to spark the imagination of a child, but to take a story which starts as a moment in time – a photograph – and then becomes something entirely new.
It was a great privilege when Flatten Me sent a Twinkle Toes Personalized Shirt for Ceana. There were nine (9) design options available for personalized shirts which were as follows :
Moon Fairy
Rockstar
Mermaid
Ballerina
Fireman
Pretty Princess
SuperKid
Astronaut
My Hero!
Upon these choices, I was torn among the princess, moon fairy and ballerina designs but then eventually went for the ballerina one. I assumed that my daughter would want to imagine herself as ballerina in a pink tutu doing a pirouette and just the same, I wanted to feed her imagination.
They asked for my daughter's photo to be uploaded in their website. It wasn't much of a hassle doing so, aside from that, they provided some tips to get the best results. First, the child should face the camera in the photo, second, there should only be one child in the photo and third, they only recommended colored photos.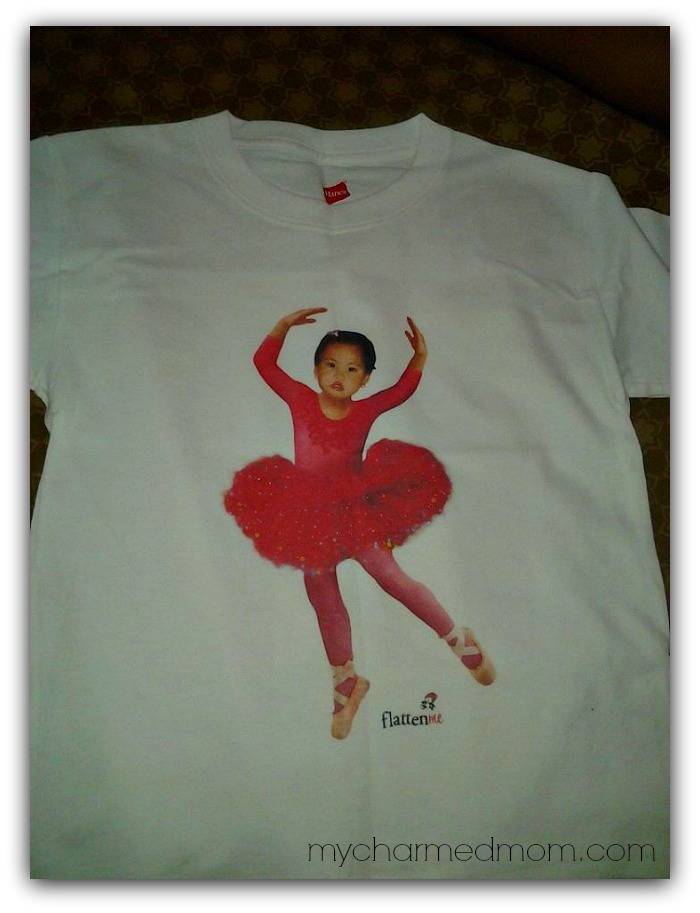 The finished product is a masterpiece! The brand of shirt they used is of good quality and made of 100% cotton. There will be no worry of your child's comfort upon wearing it. The print is also long lasting and did not fade even after a number of washings.
You can see from my daughter's reaction that she loves her shirt so much! She even wants to wear the same shirt over and over and so I needed to hide it from her a number of times
This is a highly recommended gift not only for the Holidays but during birthdays, graduations and any other special occassions.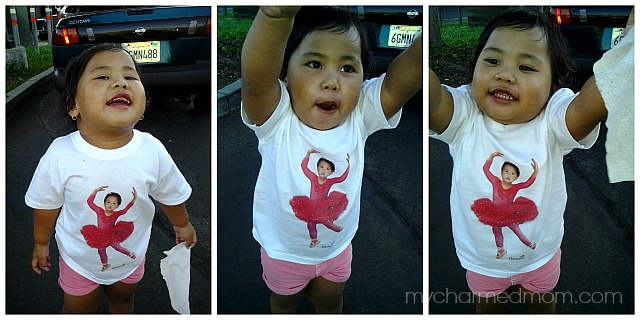 Where to buy?

Flatten Me Personalized shirts are available for $27.95 at www.flattenme.com along with other Flatten Me products.
Shirts are available in various sizes starting from 12-18 months to XL(size 18-20). Flatten Me also offers a $3.99 flat rate shipping. Delivery usually takes 1.5-2weeks.
You can follow Flatten Me in the following social media accounts : Facebook | Twitter | Pinterest
Flatten Me Twinkle Toes Personalized Shirt is included in my 2013 Holiday Gift Guide together with some awesome gift ideas.