* I received a free large bean bag from Bean Bag Chair Outlet to faciliate this review. All opinions are purely my own.
I remember ever wanting a small bean bag when I was a little younger. I was always curious with what's inside it that I have concluded it may be sand or those little tiny stones that makes it conform to your body's position when you sit on it.
Fast forward today. Eversince we have moved into our new home, I have wanted to own a bean bag that I have dreamt of putting in our living room. Our family loves watching movies especially during the weekends while cuddling together.
Fortunately, I was sent a Large Royal Sack by Bean Bag Chair Outlet to try out. It was an undertaking to unpack a tightly packed box secured with staple wires but this packaging made sure that the sack reaches a customer intact.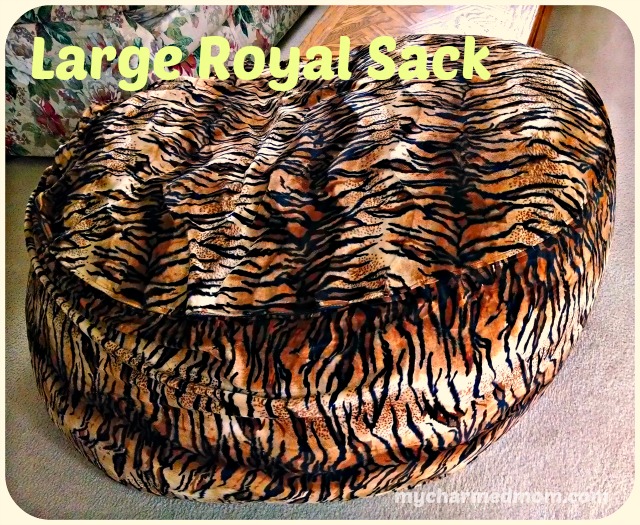 The Large Royal Sack measures 54" X 44" X 36" and comes with a removable cover that has Twill And Durable Denim, Animal Fur, Ultra Suede, Vertigo Suede frabric swatches for choices. I chose the Tiger design (under Animal Fur swatch) which is what my husband requested.
And when I thought I will have a hard time putting on the cover, I didn't. The removable cover has an extra long zipper opening that allows you to open the bottom more easily and the removing of the cover for washing totally painless. These royal sacks has special patches that cover the zipper on the covers that prevent children from accessing the the actual bean bags.
The plush material that the cover is made of has an inner liner made of 50/50 poly/cotton blend which gives the sack a more modern feel and gave a sleek image into our small living room.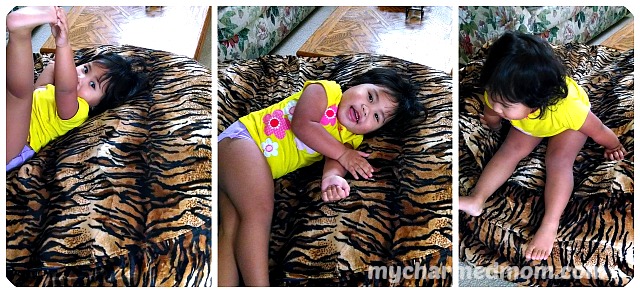 These fombags are filled with shredded foam and made from the highest quality fabric available which is the reason why it is safe for kids. They are designed with the highest safety standards so that families can enjoy its comfort without worrying about safety, it is like sitting on a comfy chair with foam.
The royal sack is perfect for anyone but I recommend supervision with younger kids especially infants. I like that it conforms to the position your body feels comfortable with, like if you want to watch tv you can use it as chair, for guests, as lounge chair and a mini bed if you want to lie on it. It is so versatile.
Just roll it sideways if you want to get it back to its normal form.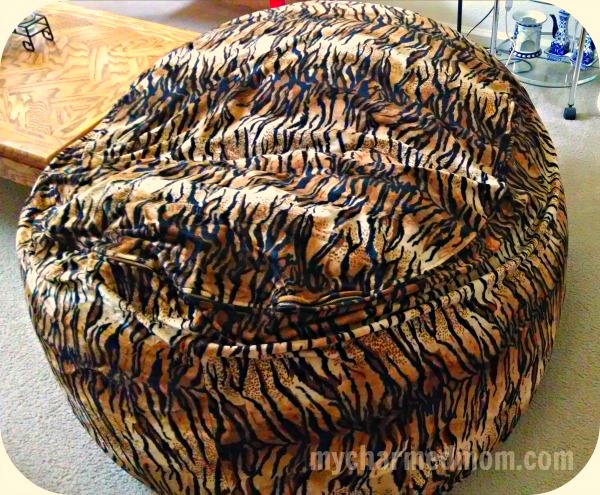 Did I mention that we carry this large sack back and forth from our living room to our bedroom? If we just want to hang out and cuddle especially now that the weather is pretty colder, this is such a comfortable place to nest in and feel snug.
In summary, it is a recommended product for relaxation which everyone in the family can enjoy!
Where to buy?

You can purchase the Royal Large Sack at BeanBagChairOutlet.com for $134.99 with FREE SHIPPING. Embroidery is also offered for only $10 more.
Discount Code

Use the Discount Code : CHARMED (all in caps) and this will save you 10% during check out.
Want to Win it?

Go ahead and enter My Charmed Mom's Home for the Holidays Giveaway and get a chance to win a Large Royal Sack just like what I reviewed.
Bean Bag Chair Outlet Large Royal Sack is included in my 2013 Holiday Gift Guide together with some awesome gift ideas.