I received another box full of surprises when I received the Sugar N' Spice Box from Influenster. One thing I like about VoxBoxes is that I get a variety of items in just one box so I get a chance to try out diverse types of products, from biscuits to sweeteners to teeth whitening system, facial wipes and moisturizer.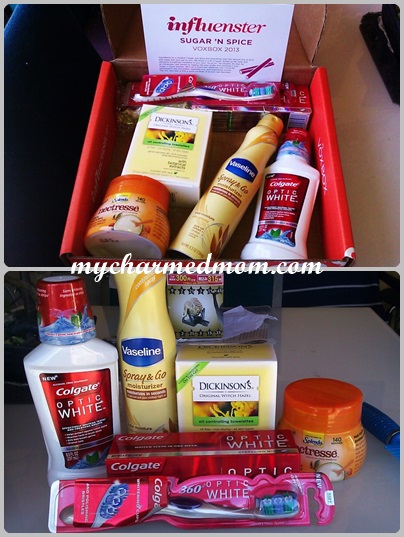 This is what I have received from the Sugar N' Spice :
Colgate Optic White Regimen which consists of
Colgate® Optic White® toothpaste
Colgate® 360°® Optic White® toothbrush
Colgate® Optic White® mouthwash
The collection of Colgate® Optic White® products whitens more than 3 shades (based on twice daily use for 4 weeks) and results start in one week. With Colgate® Optic White®, the only accessory you need to look fabulous is your smile.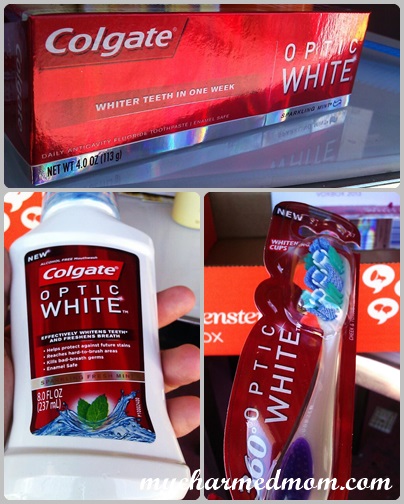 Vaseline® Spray & Go Moisturizer 
A convenient 360° continuous spray lotion that moisturizes deeply and absorbs in less than 10 seconds. Skin feels instantly soft – not sticky or greasy
Dickinson's® Original Witch Hazel Oil Controlling Towelettes
The first ever individually wrapped towelette with Original Witch Hazel to gently remove dirt, oil & impurities while eliminating shine – even on the go. Perfect for even the most sensitive skin, each towelette is touched with aloe to help restore essential moisture. The result is a clean, refreshed, and blemish free complexion anytime, anywhere. Oil Controlling Towelettes are conveniently wrapped for active lifestyles and perfectly sized for travel, complying with strict TSA requirements.
Nectresse Natural No-Calorie Sweetener- Spoonable Canister
Made  from the goodness of real fruit-monk fruit and is 100% natural from the makers of Splenda® Sweeteners. The canister approximately makes 140 servings.27
belVita Crunchy Breakfast Biscuits

belVita Crunchy Breakfast Biscuits are made with delicious ingredients and carefully baked to release nutritious sustained energy, all morning long. They are a good source of Fiber and B-vitamins, contain no high fructose corn syrup, have 18-20 grams of whole grain per 50 gram serving and taste great, which makes belVita Crunchy Breakfast Biscuits perfect for when you are on the go.
I have used and enjoyed all these products but actually I have some favorites which is the Dickinson's oil controlling towelettes and the Vaseline Spray and Go Moisturizer which is just perfect for summer. I carried the towelettes in my purse anywhere I go. The Vaseline moisturizer served its purpose well by locking in moisture most especially after shower.
Check out Infuenster at http://www.influenster.com to find more wonderful brands and products.
Disclosure : I received these products complimentary from Influenster for testing purposes.