Welcome to the $200 PayPal Cash Giveaway, Sponsored by BestMark!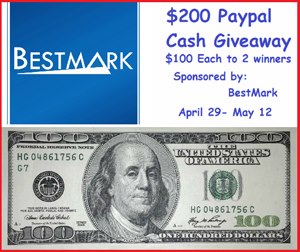 Mystery shopping is a great way to not only save a little money, but earn
some as well! Eat dinner or lunch out? Need to take the car in for an oil
change? These are just a few of the examples of "shops" that you could
perform as a BestMark mystery shopper. Simply apply for and complete the
shops you're interested in. Every shop has a predetermined reimbursement
and many offer a cash payment on top of your reimbursement.
About Our Sponsor, BestMark
Ever heard of mystery shopping? BestMark Mystery Shopping is one of the
pioneers of the industry, so you may have come across this name a time or
two. In fact, they are one of the largest mystery shopping companies in
the U.S. and Canada.
Want to Learn More about BestMark?
Be sure to check out the BestMark
website to learn more about the opportunities, how mystery shopping
works or to apply. Keep up with the hottest new contests they're running
for their mystery shoppers and more on the BestMark
blog. You can also follow them on Facebook, tweet to them when you're on
Twitter and link up with them on LinkedIn.
Ready for the Giveaway?
Two lucky readers are going to take home $100 PayPal cash each! Want a
chance at it? Make sure you get your entries in!
This giveaway is sponsored by BestMark and hosted by Moms Living
Thrifty. It will run from 4/29 – 5/12 at 11:59 pm EST.
Please note: Entries will be validated prior to a winner being chosen, so
please do ensure that any entries you claim are completed correctly in
order to be considered valid.
Good luck!