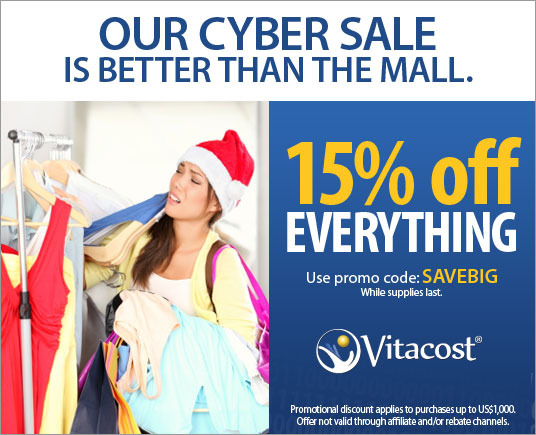 If you want to go shopping but don't want to get in line or standing for hours, then this is one perfect solution you might just want to take advantage of. Vitacost will have a Cyber Sale which will start today, Saturday morning and will end Monday night (11/24/2012 Time: 9:00AM EST End Date: 11/26/2012 Time: 11:59 PM EST) – 15% off everything!
Use the Promo Code : SAVEBIG

With Vitacost.com, you don't have to choose between stores that sell products you don't really want at super-low prices, and stores that sell the better health and wellness products you want at crazy-high prices. We offer over 2,000 of the top, most-trusted natural brands, diet foods and healthy living essentials-the very best nutritional supplements, whole foods and sports nutrition-at discount prices, up to 50% off. And we'll deliver them right to your door for FREE if your order totals $49 or more. Otherwise, shipping is just a small, flat-rate fee of $4.99, no matter how big the box is.