Who doesn't love Pinterest? How about pinning clothes, shoes, and accessories to put together a perfect date night outfit? Ever wanted to own what your pin to your Pinterest Pinboards? Well, now you can.
My Charmed Mom has joined Whatsername Jewelry's Pin it to Win it Giveaway. The rules are simple. Choose one item from Whatsername Jewelry's Etsy Shop that you personally would like to own or give as a gift and Pin it to one of your Pinterest Pinboards.

You may pin one charm per day throughout the duration of the giveaway; however, you must submit a unique URL for each entry. Repeat URL entries will be voided at the end of the contest.
Whatsername Jewelry offers Handmade Zodiac Sign Necklaces in all 12 Zodiac Signs in three colors: Classic Black and Gold, Modern Silver and Black, and the most recent addition, Red and Gold. You may also choose to pin one of her Zodiac Totems or Bracelets. Save 20% off now by using Coupon Code WSNJ1 at Checkout.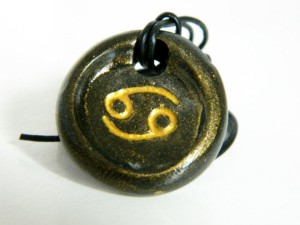 Picture above is my own Zodiac Sign, Cancer.
Don't just Pin it, Win it!
Pin it to Win it Contest runs July 9th through July 30th. This contest is open Worldwide. Good Luck!
Not on Pinterest yet? What better time to join. Request an invite.