New season trends have seen crop tops front and center, from slinky satin cami tops that skim your midriff to long sleeve cropped cardigans and tube tops reminiscent of the noughties.
The crop top adds an air of youthfulness to any outfit and has us day dreaming of warm days with the summer sun on our skin. If you're looking to revitalize your summer wardrobe and delve into the crop top trend or are looking for inspiration on new ways to wear your favorite pieces, we've put together our top tips on how to style a crop top and integrate this look into your existing wardrobe.
High Waisted Pants
High waisted bottoms are the ultimate companion to any crop top, showing off a small amount of your midriff and keeping you comfortable whilst still on trend. One of our favorite pairings is wide leg, high waisted pants. These perfectly balance your silhouette, even with the most cropped styles and are effortless and easy to wear. Style a crop top and high waisted pants combination with sandals for a casual day time look or slip on a pair of heels to elevate your ensemble for the evening.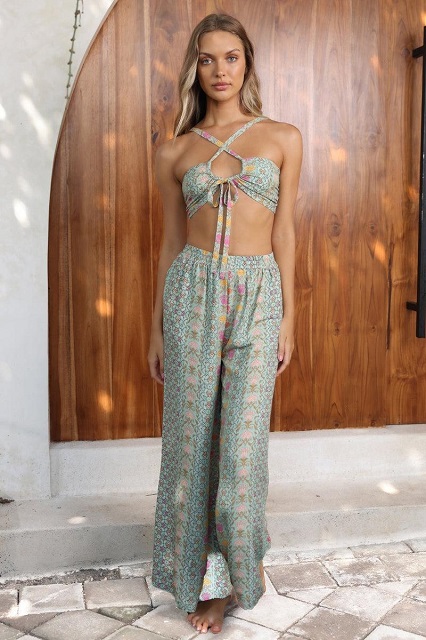 Maxi Skirt
Similar to the crop top and high waisted pants combination, a crop top and maxi skirt is always on our spring and summer outfit radar. Choose a more fitted a-line skirt style such as a bias cut satin skirt or add a bohemian inspired edge to your look with a tiered, breezy maxi skirt adorned with a tassel waist tie. This feminine silhouette looks gorgeous with an off the shoulder crop or tie up halter neckline.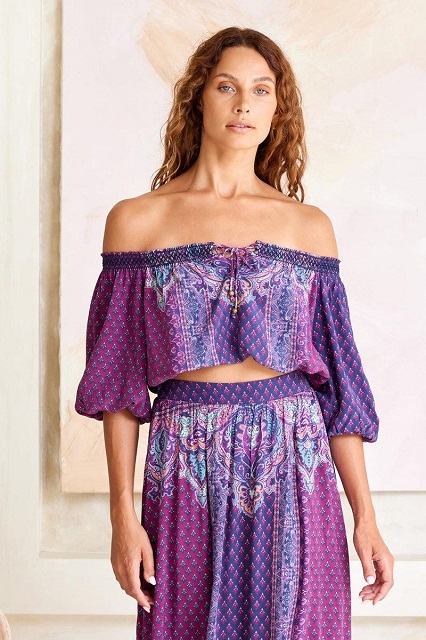 Matching Set
If you're looking for an easy to style, effortless crop top outfit, a matching set is the answer to your call. The perfect option for easing yourself into this trend or building an outfit that is guaranteed to hit the mark every time. The matching set features a crop top and bottoms, such as pants, shorts or a skirt in the same fabric, print and style and gives an effortlessly put together look for almost any occasion. Complete your outfit with minimalistic pieces of jewelry and a pair of black or brown leather sandals.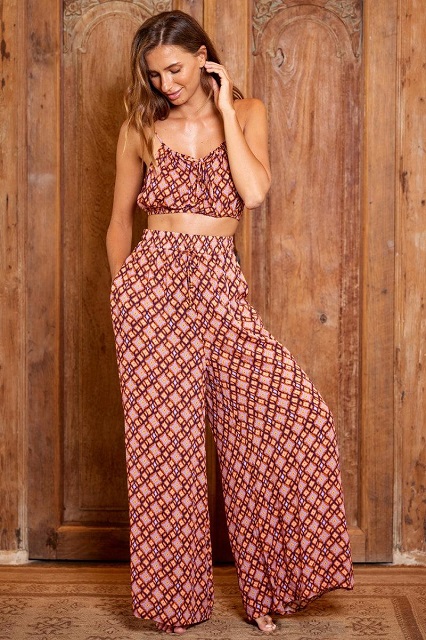 Mini Skirt
Made for those scorching days in the height of summer, or balmy evenings spent dancing the night away, a crop top and mini skirt are a fun and femme pairing. Wear a printed crop top with a simple, block coloured skirt such as white linen or beige crochet or opt for a matching set in the same all over print.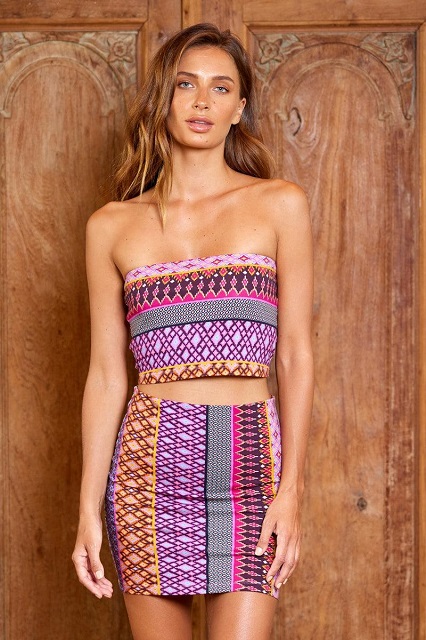 From an easy daytime look, pairing a crop top with flowing wide leg pants to a stunning summer evening look with a crop and mini skirt combination, with a myriad of crop top styles and even more ways to wear them, you can curate your perfect outfit this season. Choose bottoms that balance your silhouette and don't be afraid to mix and match textures and colors to build your ideal ensemble.