Putting a dress on can make you feel like a brand new person, so here's how to find the best deals on everyone's favorite dresses!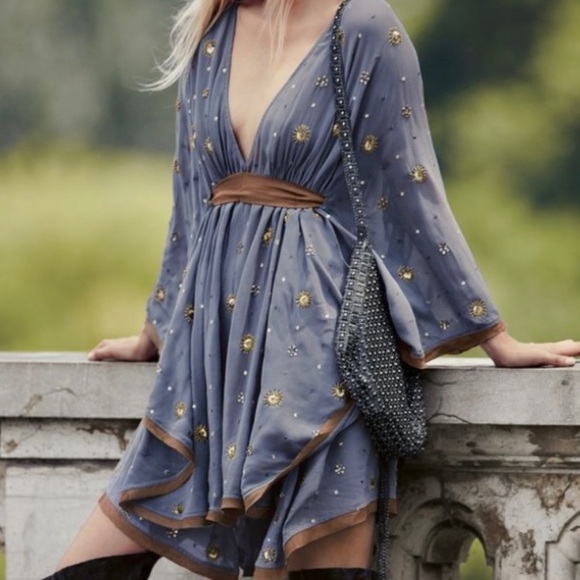 Main image courtesy of Poshmark.
There's a universal feeling to wearing dresses for many people—they often help you feel free. Dresses come in all lengths, colors, patterns, designs, cuts, and more making them unique . One of the best fashion brands to get a dress from is Free People because of their bohemian and vintage look and feel.
Free People is a very popular clothing brand known for their dresses, tops, pants, handbags, shoes, and accessories. Their clothes frequently run out of stock, so it's important to get an idea of how and where to shop for Free People dresses and more. You can look through the following sites for the most fashionable Free People dresses such as:
Shopbop

(offers the largest selection with the best sales)
Who is Free People?
A brand that started in Philadelphia and has expanded into a widely known bohemian-style label!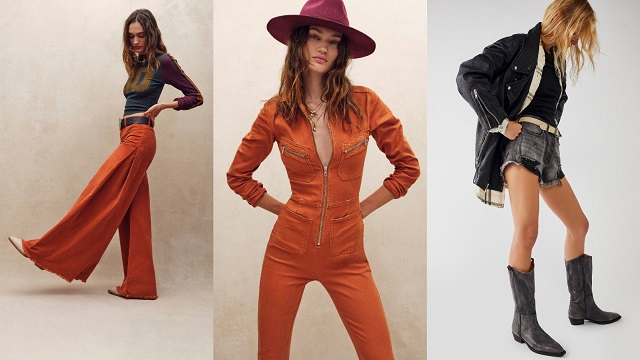 Defining your look is important to boost your confidence, and if you're looking for a new brand to check out, Free People offers a lot of fun, vintage styles. Image courtesy of CNN. 
Who Founded Free People?
In the 1970s, Free People was founded by a man named Dick Hayne and the first store was located on the streets of Philadelphia. His mission was to make and design clothes for young people to feel "free" in and as the company grew, its name was changed to Urban Outfitters. 
In 2001, they reverted back to their roots and changed their name back to Free People to become a more contemporary and mature brand that influences individuality, creativity, and intelligence. With their vintage and bohemian looks, they have become iconic in the fashion industry, and affordable on top of that.
Free People includes their own personal touch in every piece of clothing because all of it is handmade, including the crocheted hangers that they're on. They use a lot of real leather, wool, and exotic animal hair in their clothing, shoes, handbags, and accessories.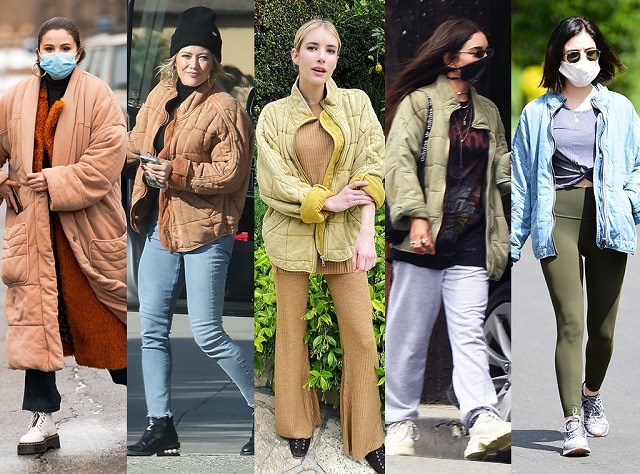 Free People is a very reputable brand, especially among celebrities such as Selena Gomez, Hilary Duff, Emma Roberts, Vanessa Hudgens, and Lucy Hale. Image courtesy of E Online. 
Free People's Most Popular Dresses
Free-spirited dresses are sold at Free People, but it's important to get to know their most popular styles!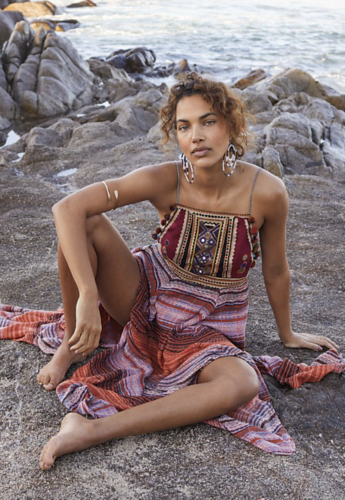 Free People dresses are beautiful bohemian masterpieces you will feel confident wearing, and help you to feel more like yourself. Image courtesy of Ebay. 
Dress shopping can be stressful, especially when you're trying to figure out more about yourself and learn what styles look and feel good on your body. Free People offers so many styles of dresses that come in beautiful patterns, colors, and lengths, so it can be tough to decide which one is best for you.
Come check out and see some of Free People's most popular dress styles that they offer right now!
The Real Love Embroidered Dress
A stunning maxi dress with beautiful embroidery making it the perfect beach dress
The Real Love Embroidered dress is a stunning Free People dress offering a beautiful deep-V cut that makes you feel elegant, yet free. Image courtesy of Free People. 
If you are a maxi dress type-of-person, Free People's Real Love Embroidered Dress is the perfect dress for anybody and everybody. With its free-spirited and flowy feel, this effortless, pull-on style maxi dress can be perfect for casual settings, and the perfect dress to walk along the beach shore barefoot. 
Oasis Printed Midi Dress
A dress so pretty and free you'll feel like you're walking through a field of flowers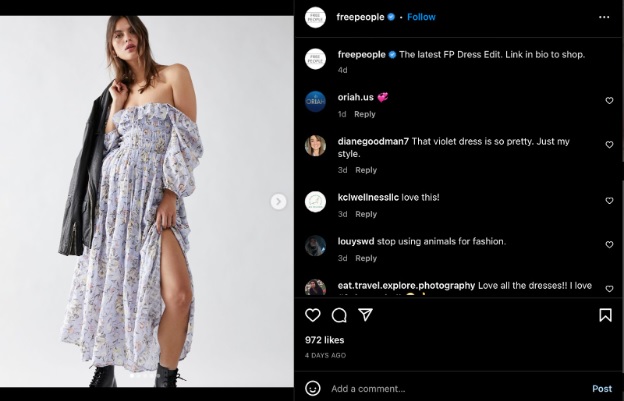 Free People's Oasis Printed Midi Dress is a beautiful dress with a ruffled, yet comfortable look that is great for any occasion. Image courtesy of Instagram.
Printed dresses have never gone out of style and we can prove that with the Oasis Printed Midi Dress! This stunning blue and flower printed midi dress features a ruffled look with a smocking at the waist to allow the dress to adorn your body in the most flattering way possible. This dress can easily be dressed up or down and is great to wear no matter the occasion. 
The beautifully ruffled, yet flattering Oasis Printed Midi Dress by Free People offers an effortless look that can be dressed however you please. Image courtesy of Free People. 
Starlit Mini Dress
Look bold in this signature mini dress perfect for nights out with the girls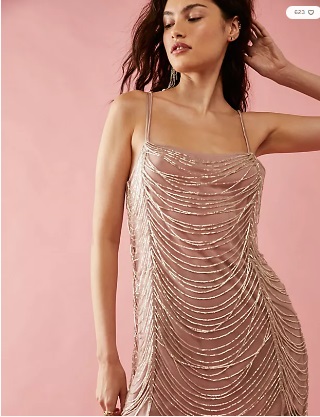 Free People's Starlit Mini Dress is the perfect going out dress with how it shapes and molds to your body, boosting your confidence. Image courtesy of Free People. 
Finding the perfect dress to wear out for a girls night at the club, or for a fun dinner out can be tough, but don't worry, Free People's Starlit Mini Dress is the perfect one to wear. This fun fringe-y dress shapes your silhouette with its draped beading and beautiful pink sheer lace overlay. This is a fun dress that you will feel confident in all night long. 
Mont Blanc Mini Dress
The most comfortable dress to wear in the winter time with its sweater-y feel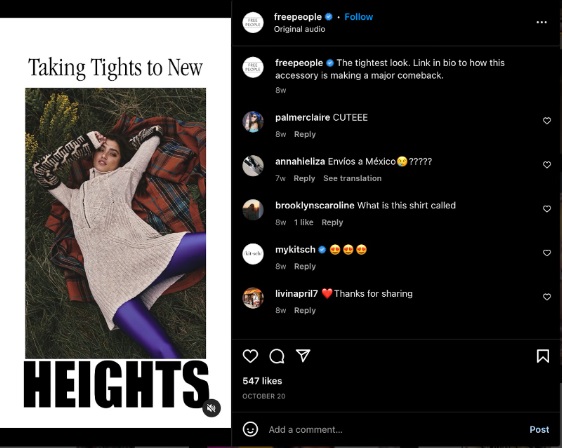 Wearing dresses in the winter time can risk you getting cold, but Free People's Mont Blanc Mini Dress is the perfect sweater dress to wear no matter how cold it gets. Image courtesy of Instagram. 
Depending on where you live, trying to dress for special occasions in the wintertime can be tough because of the cold. With Free People's Mont Blanc Mini Dress, you can wear a sweater and a dress all in one. This vintage-style sweater dress comes in a tan and a red jasper color that also features a zip-front and collared neckline.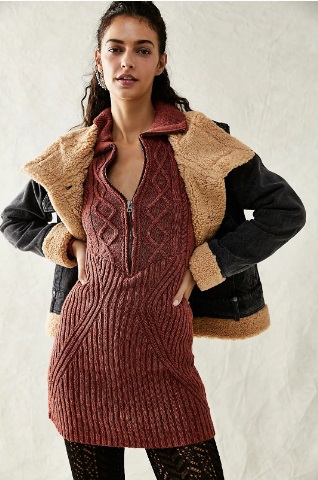 The Mont Blanc Mini Dress is the perfect sweater dress that can be dressed up or down, and will keep you warm in the winter time. Image courtesy of Free People. 
100 Degree Mini Dress
A signature dress that is the perfect summer dress with it's soft, cotton feel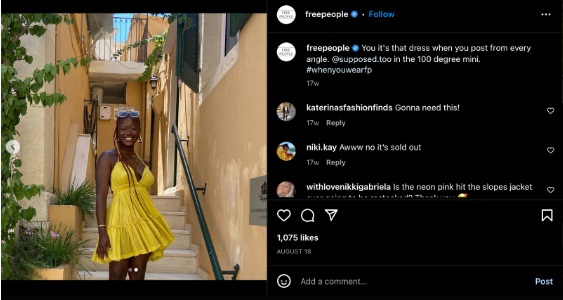 Free People's 100 Degree Mini Dress gives summer vibes, making it the perfect beach dress with it's free flowing look and feel. Image courtesy of Instagram. 
Looking your best is one thing, but feeling your best is something completely different, and you can feel that in Free People's 100 Degree Mini Dress. This is the perfect summer dress featuring a cotton look and feel, and it comes in many different colors, such as frozen violet, black, talking roses, light tan, blue kiss, and many more.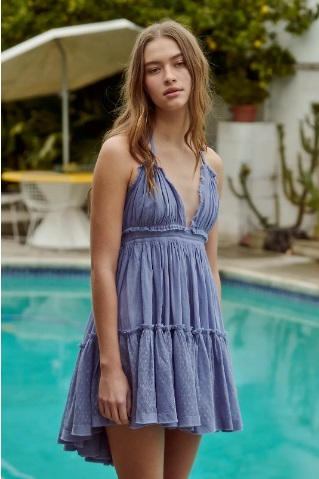 Finding the perfect summer dress that best fits any occasion is essential, and Free People's 100 Degree Mini Dress offers just that. Image courtesy of Free People. 
How to Shop Free People Dresses on a Budget
Look and feel your best in a Free People dress using alternative retailers that can help you save money!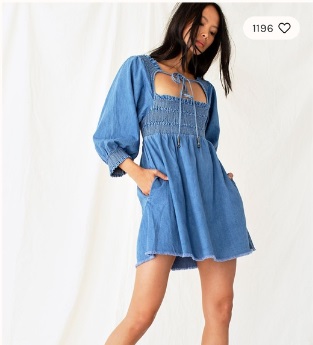 Free People dresses allow you to feel free-spirited, but it's also important to get their most popular ones at a great price. Image courtesy of Poshmark. 
Finding the perfect dress that fits your body shape and makes you feel confident and beautiful is important, and Free People dresses can do just that. If you are looking to purchase a Free People dress, but are on a budget and can't buy directly off of their website, there are other alternatives to take advantage of.
Here are some other retailers that sell the most popular Free People dresses for a steal!
Free People Website
While many think that it would be impossible to even attempt to find Free People dresses for sale on their own website, it's quite possible. Go on their website and click on the "Sale" tab, and from there, you can narrow down exactly what you're looking for. Click on "Sale Dresses" under the "Browse" tab and you can look through all of their dresses for great prices. 
Other Retailers
Shopbop
If you think that you'll have better luck finding Free People dresses at a more suitable price through another retailer, then Shopbop may be the place for you. Shopbop is a website that lists thousands of items from high-end fashion companies that include everything from shirts, dresses, scarfs, shoes, and other accessories as well. Free People even has their very own section where you can browse their older dress collections for a great price!
Poshmark
Another great website to look for some of the best Free People dresses is through Poshmark. Poshmark is a website where you can sell or purchase used clothing articles for half of the price you would normally buy it at. There is a whole Free People selection where people sell their used dresses that are in great condition for an even better price. 
Ebay
Another great website to find high-brand fashion clothing, shoes, accessories, and more is through Ebay. You can find Free People dresses with ease where you can bid or even outright buy your favorite dresses from older collections. For budget spenders, this website is one of the best places to go and find affordable Free People dresses so you can feel and look your best. 
Restocking Information
Sometimes if there's a dress you really want, you'll hold out to save the money for it, and get it when it is back in stock. It's important to know what to do to prepare for a restock before the dress you want is gone again, so here are some tips on what you can do.
The essential tips you need to get the Free People dress that you've been wanting include the following:
Decide what shape, color, and size dress you want beforehand

Refresh the page when you know when the restock will happen

Have your credit card ready with the numbers on the card already typed out on a document so you can easily copy and paste it in at the check out

Contact customer service about when certain items will be restocked, or which stockists also sell Free People items
Free People is known for being a free-spirit type of fashion label where people can express their individuality and creativeness just by how they dress. Their gorgeous dresses are some of the best in the industry where you will be turning heads no matter where you go.
Get the best Free People dresses even on a budget with their signature dresses and even other clothing items, accessories, shoes, and more!