Housework can often fall to the bottom of our list of priorities. This is understandable. We lead busy lives. We face all sorts of to-dos and challenges on a day to day basis – childcare, the school run, commuting, work, preparing meals, familial commitments, social commitments… the list goes on. So, when you finally settle down back at home, running the vacuum around or dusting the hard to reach corners might not be the first thing you want to do. But taking proper care of your home is really important.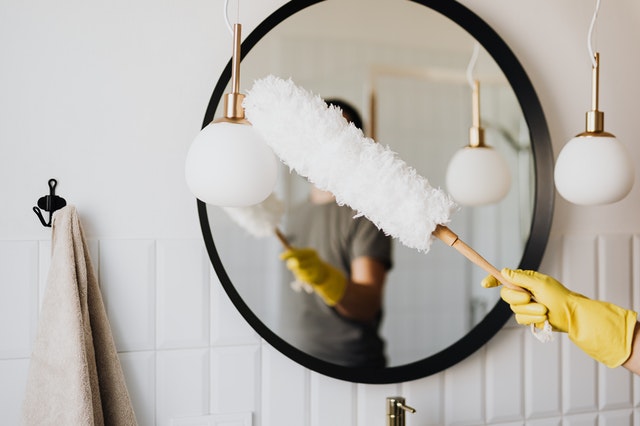 You need to make sure that everything's in ship shape for a number of reasons. You want your home to be hygienic. You want it to be a comfortable space to spend quality time with your family. You want it to be presentable so you can host friends and extended family. But where should you start? Here are some top tips for taking good care of your home on an ongoing basis.
Repairs
Start out with repairs. Most properties need some sort of repair work carried out on them. This is because our homes are much loved and much used, meaning they undergo a lot of wear and tear and things will wear down, break down or face other issues from time to time. Take a look around your home and note all the repair work that needs to be done. Maybe you need to fix a switch that doesn't work by calling an electrician. A plumber can fix a leaky tap. A glazier can fit custom windows to resolve cracks. The list goes on.
Deep Clean
Sure, we all have some sort of routine cleaning schedule. But when's the last time you really deep cleaned your home? There are all sorts of areas that can be missed, overlooked and go untouched for months at a time. But due to general activity in your home, they will still build dirt and dust and you're going to need to tackle them every once in a while. You might need to dust and wipe down skirting boards, coving, door frames and high up surfaces that are out of sight and out of mind. You could hire a professional carpet cleaning machine and deep clean your carpets, lifting dirt and debris from the pile.
Exterior Care
Home care shouldn't be limited to the inside of your property, even if this is the area you spend the most time in. You should also occasionally turn your attention to the exterior of your home too. Consider repainting the exterior walls of your home, which can dull through sun exposure over time. Repaint the front door and any fencing you have. Maintain your front and back garden through gardening and landscaping. Jet wash patios and decking. Pull weeds from walkways. There are a whole host of garden related tasks you can undertake to give your home some real curb appeal.
As you can see, there are a few different areas to focus on when it comes to home care – and we're just getting started. Try a few different options outlined above and see the benefits before you know it!