In the past, people would cook at home and eat out occasionally. Nowadays, people are eating out more than ever before. What's behind this shift? People are having a hard time cooking because of the busy schedule they have. They don't have time to make food for themselves or their family and that's why they are turning to restaurants for meals. The health risks associated with eating out are also a factor in this shift. It can also cost more. So it's a good idea to try and cook more at home where you can.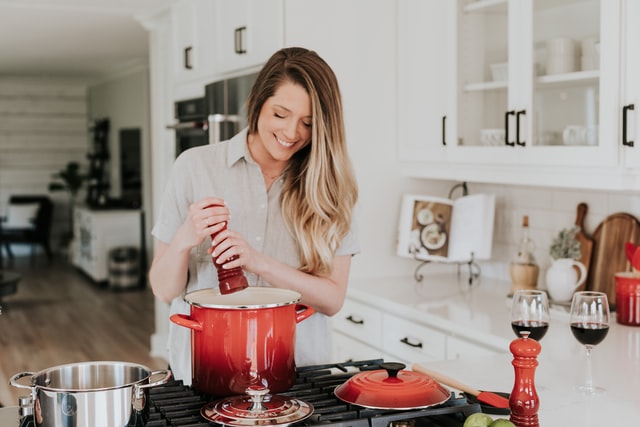 How to Stop Eating Out or Getting Takeout and Cook Delicious Meals at Home
It is not always easy to cook healthy meals at home. However, it is worth the time and effort. Not only will you save money, but it can be better for your health too. In order to do this, it helps to plan your meals in advance, buy fresh ingredients and use them up, cook more vegetables than meat, and use a slow cooker and make soups, stews, casseroles, for ease and comfort. Even if you love things like your fave coffee or takeout, you can look for something like a Starbucks copycat cold foam recipe or Chinese takeout recipe to replicate at home too.
The Benefits of Starting to Cook More at Home
The benefits of cooking more at home are many. Whether you're trying to save money, reduce your carbon footprint, or improve your health, cooking at home is a great way to start. You can also use the time you save on cooking to do other things like exercise, study for a test or get some work done. Eating homemade meals over fast food is better for your health in many ways. It saves you time, money and helps you avoid toxins that are often found in fast food.
How to Buy Ingredients With a Budget in Mind
Grocery shopping can be a challenge for some people, especially when they want to buy ingredients for their home cooking but don't have a lot of money. The first step is to decide what you need to purchase. For example, if you're making lasagna and need pasta, you can buy one package of noodles rather than buying a whole box. Next, decide what the best brands are for your needs. For example, if you're looking for cereal that has no added sugar or artificial colors and flavors, then choose an organic brand such as Kashi or Nature's Path. You can easily make it work by thinking ahead like this.
Save Money and Cook Delicious Meals at Home
There are a few tips and tricks that can help you cook delicious meals at home. A lot of it does mean that you need to plan ahead, do your meal plan, get your groceries together, and know what this is going to cost you. If this is new to you, then you could even look to try and do this just a few nights a week until you get the hang of it. It will definitely be worth it when you're in the rhythm, you'll also be able t save money in the process.