Kids love spending time in their bedrooms, and a well-decorated room can make them feel happy and comfortable. If your child's bedroom is in need of a makeover, don't worry – you don't have to spend a lot of money or take on a big project. These five easy tips will help you give your child's bedroom a fresh new look that they'll love.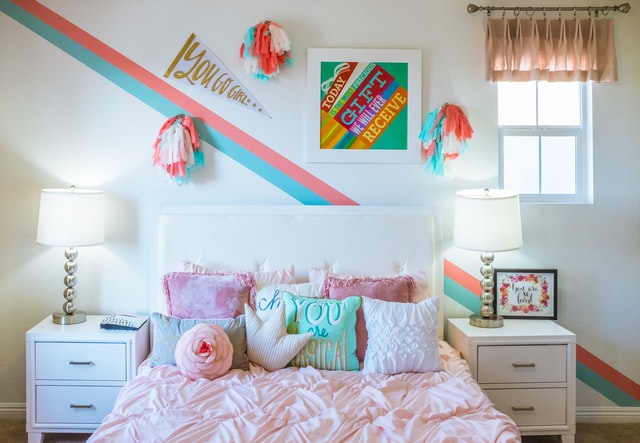 Here are five ideas to get you started:
1. Create a themed bedroom
If your child is into a certain type of movie or TV show, create a bedroom that reflects their interests. This could mean painting the walls in bold colors, adding military flags, decals, or posters of their favorite characters, or purchasing furniture and accessories that match the theme. Fairy lights, for example, can be used to create a whimsical atmosphere, while toy chests and shelves can help to keep the room tidy.
2. Add some color
A touch of color can really brighten up a bedroom. If your child's room is currently quite bland, consider adding a coat of paint in a vibrant hue. Alternatively, you could add some colorful accessories such as bedding, rugs, curtains, or wall art.
3. Go with a natural theme
If your child loves spending time outdoors, why not bring the outdoors inside with a natural themed bedroom? This could involve using earthy colors like green and brown, adding plants or flowers, or decorating with wooden furniture and accessories.
4. Let them personalize their space
One of the best things about making over a bedroom is giving your child complete control over how it looks. Let them choose the paint colors, the bedding, and even the decorations. This will help them feel like they have a space that's entirely their own.
5. Add some fun features
There are a number of fun additions you can make to a child's bedroom, such as building them a loft bed, installing a slide, or putting in a basketball hoop. These features will not only make the room more enjoyable to spend time in, but they'll also be a great source of entertainment for your kids.
6. Create storage solutions
A cluttered bedroom is never fun, so create some storage solutions to help your child keep their space neat and tidy. This could mean adding shelves or cabinets to the walls, installing under-the-bed storage containers, or using baskets and bins to store toys and clothes.
7. Think about safety
When making over a bedroom for your kids, it's important to think about safety as well. Make sure the room is well-lit and that there are no sharp edges or corners on furniture. You may also want to add stickers or decals to the floor to indicate where it's safe to play.
There You Have It
With these ideas in mind, you're ready to start making over your child's bedroom. Let them get involved in the process and have fun creating a space that they'll love spending time in. Imagination and creativity are key when it comes to kids' bedrooms, so let your imagination run wild!