Smart & Final Stores, Inc. the neighborhood warehouse grocery store, opened its 198th Smart & Final Extra! store today located at 1290 W. San Carlos St. in San Jose, Calif. today at 7 a.m.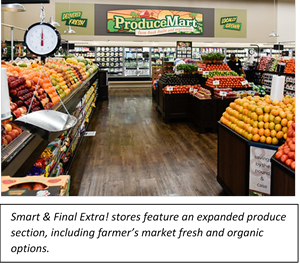 Regular store hours are 6 a.m. to 10 p.m. every day of the week. The 30,000 square foot store on the corner of San Carlos and Race St. offers products in both household and club sizes at warehouse prices – without the membership fee.
"We are thrilled to open in the community of San Jose and provide an exceptional shopping experience to local residents and businesses," said Carlos Santa Cruz, Store Manager, Smart & Final Extra! San Jose. "We look forward to welcoming our friends and neighbors and showing them all the store has to offer. Whether shopping for their family, an event or a business, they'll find much more than a traditional grocery store – including bulk-sizes on hard to find items, farm-fresh produce, natural and organic foods, oven-roasted chicken and even daily fresh cut fruit."
With expanded frozen, deli and meat selections, a full fresh produce section with organic options, and grocery and household products offered in a broad range of sizes, Smart & Final's Extra! format stores provide an additional 6,000 club size items as compared to traditional Smart & Final stores.
Other store features:
High-quality perishables such as First Street brand bacon, cheeses and meats
A wide selection of organic offerings from Smart & Final's Sun Harvest brand
Good & Well sections, including organic and natural food products
Goods tailored to business and household customers like to-go containers, janitorial supplies and food service items
Products offered in a broad range of sizes
Home delivery via Instacart at shop.smartandfinal.com
This morning, Smart & Final executives and leaders from the San Jose civic, business and non-profit communities participated in a ceremonial ribbon cutting. The Smart & Final Charitable Foundation presented checks, each in the amount of $2,500, to Sacred Heart Community Services, Martha's Kitchen and Lincoln High School. The donations are part of Smart & Final's corporate commitment to supporting organizations and causes in the communities where it operates stores.
About Smart & Final
Smart & Final Stores, Inc. (NYSE: SFS), is a value-oriented food and everyday staples retailer, headquartered in Commerce (near Los Angeles), California. The Company offers quality products in a variety of sizes, saving household, nonprofit and business customers time and money. As of June 17, 2018, the Company operated 322 grocery and foodservice stores under the "Smart & Final," "Smart & Final Extra!" and "Smart Foodservice Warehouse Stores" banners in California, Oregon, Washington, Arizona, Nevada, Idaho, Montana and Utah, with an additional 15 stores in Northwestern Mexico operated through a joint venture. In business for over 146 years, the Company remains committed to giving back to local communities through employee volunteer opportunities and Company donations to local nonprofits.