Whether you are going camping or glamping there are always a lot of things that you will need to remember to take with you to be self-sufficient. Depending on the site that you go to there may be minimum accessories or equipment, therefore, ensure you have all this prepared beforehand, as this will make for a successful trip. Even it is means checking out something like tactical flashlight reviews 2020 to find the best flashlights for the trip, comparing a variety of tents to find one that's suitable for the family or even watch videos online on how to pack for a camping trip, knowing what to pack will make all the difference.
Camping is generally not expensive to do and there are recognized campsites everywhere, some people even use farmers' fields (with their permission beforehand). Making sure you take everything you need beforehand requires some thought. If you have decided to bring along a motorhome or campervan for some home comforts, you can click here and see how you can finance this. Anyway, here are some of the items that you should consider for your trip.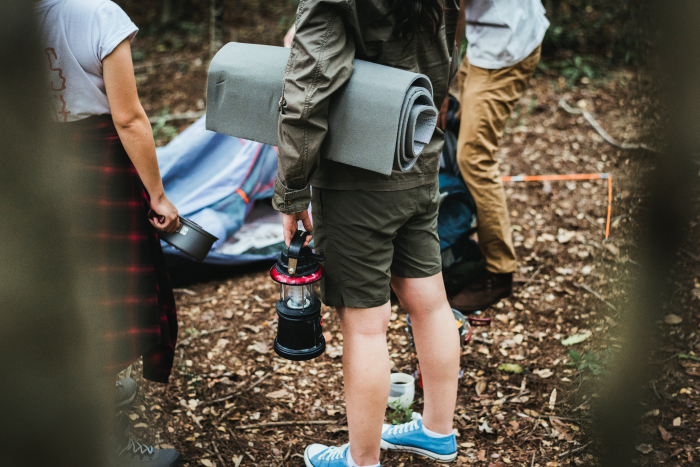 Bicycle
If you are driving to your camping site then taking a bike for you and your family can prove an invaluable asset. A lot of campsites are isolated and not near shops therefore taking a bike with you can help you commute. In addition to this, there may be some cycle tracks or awesome scenery nearby that could add a bit of excitement to your adventure. Clearly if taking a bicycle there are a few things you will need to remember. The first one is to ensure you have bike racks for your motor vehicle. These are not particularly expensive and can be purchased at many different retailers or online. The other items that are a must when cycling are your safety helmets and water bottles. You do not see many people now out cycling without the correct safety equipment. If you are not familiar with the terrain then it is even more important to protect yourself. Other things that you may wish to consider is weather proof clothing. Make sure that you understand what the weather forecast is likely to be so that you can plan for this eventuality.
Cooking Stoves
If you are looking to cook for yourself on a campsite then you will likely require a stove. There are many different types of stove depending on what exactly you are looking to cook and the size you desire. Generally the most common type for these adventures is portable gas ones. There are many on the market that are relatively cheap for you to use. Remember to be safe with these types of equipment specifically when travelling as if you have a gas canister with you this is a flammable hazard. The gas that is provided with these types of cooking equipment is not significant so be sure to plan ahead if you are staying in the campsite for a longer period of time to ensure that you have enough to do you the duration of your stay.
Tents
It sounds very obvious but don't forget your tent. Nowadays you can buy tents the size of a small home with different rooms or you can go for a classic smaller two man tent. Whatever your choice remember that you will need to invest the time erecting this therefore don't go over the top as sometimes this can prove difficult.