Being a new mom is many things. It's scary, exciting, busy, tiring, amazing, and wonderful. In those first few months, all your energy and focus is on your little one. Everything you do in the day is for their survival, comfort, and security. Within the turmoil and chaos it's easy to forget about your own needs. It's not selfish to establish some self-care. In fact, the opposite is true. It's necessary for your baby's well-being as well as yours. A tired, unhappy, and stressed-out mom is not a healthy mom, and that's not great for either of you. So, set aside a little time to focus just on you.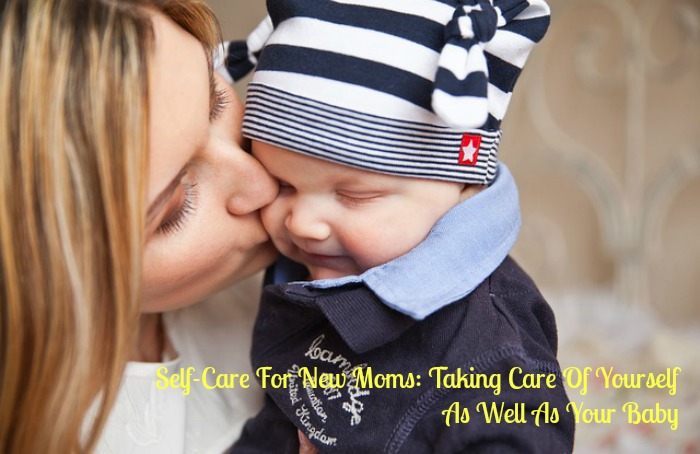 Get Some Help
No-one can do everything on their own. Enlist anyone you can to help you. This includes your partner, and close family and friends. Even if it's just for thirty minutes, it's important to have a little time to yourself, whether it's to take a nap or to get some fresh air.
Schedule A Hair Appointment
This may seem a little frivolous, but it will make you feel so much better. A new do, or just a trim will make you feel human again. And it's an hour or so away from the house in the company of other adults.
Exercise
It's important to get back into a healthy exercise regime as soon as possible. This will look different to your workouts in the past. It's unlikely you'll be able to fit in several sessions a week at the gym, but there are ways to maintain your activity levels. For example, going for a run with your baby. There are lots of mom and baby classes that combine exercise and baby care, so check out your local centers.
It can take a while for your body to settle back to normal. It's been through a grueling process, and change doesn't happen overnight. In some cases, you're left with some extra belly fat or excess skin, which is perfectly normal. But if you want to shift it, diet and exercise may not be enough. There is a reason why people often look to plastic surgery after giving birth. Hence the rise of the so-called mommy makeover. Some moms opt for a tummy tuck or liposuction. If you're thinking along these lines, you can find reviews and information about your local private clinics online – researching these places is important. Moms from all over the world have decided to choose this option in order to get in shape. Luckily, there are doctors similar to Dr. Racanelli around them that specialize in mommy makeovers and other procedures.
Sleeping
Another tricky one. Feeling knackered may become your default for a while, but there are ways you can ease this. Try to sync your sleep to your baby's. For example, if he or she finally goes down at 7 pm, go to bed at that time too. You may have to wake every few hours for a feed, but at least the amount of sleep you get will accumulate. This will help until you have established a new sleeping pattern. And on those occasions when you're beside yourself with exhaustion, ask a close relative to step in a babysit for the afternoon while you get your head down.
15 minutes of Me Time
Sometimes all you need is just 15 minutes to give yourself that well-deserved "me time" that will help you to feel more human again and bring you back down to Earth. This could be done doing anything from playing a game like those on pg slot to painting your nails. Nothing is off-limits in this little bit of time that is reserved for you and only you!
Go Out On Dates
When you and your partner become parents, it's easy to forget that you're also a couple. Though you may not be able to go out as often as before, make sure you schedule in some date nights. Get the grandparents to babysit and spend an evening in each other's company. Get dressed up and agree to talk about something other than the baby.
Having a baby is hard work and those first few months are exhausting. Don't feel guilty about taking some time for yourself. Self-care is not selfish. Whether you go to the Victorian Cosmetic Institute, go on dates, or sleep more – it's is vital for the well-being of both you and your baby. You can more information here if you're wanting to look into liposuction.