We've all heard that old adage "size doesn't matter." Well guess what? It's true-at least when it comes to your ceiling fan. Ceiling fans are measured by their blade span. The blade span (similar to a bird's wing span) measures from the tip of one blade to the tip of another blade directly across. Knowing the diameter of your rotating ceiling fan will help you when deciding which ceiling fan size will work in your home, though there are two other important things to consider here. Sometimes choosing a fan can be tough, which is why a lot of homeowners opt for a Silent Fan instead. They're much more affordable and portable so cool air can flow anywhere in the house.
Before getting a new ceiling fan (even when you know its diameter) you will need to factor in the ceiling height and room size of the space in which the fan will be affixed. Below you will find an easy-to-read chart and helpful explanation that will help you determine which ceiling fan is right for you and your home.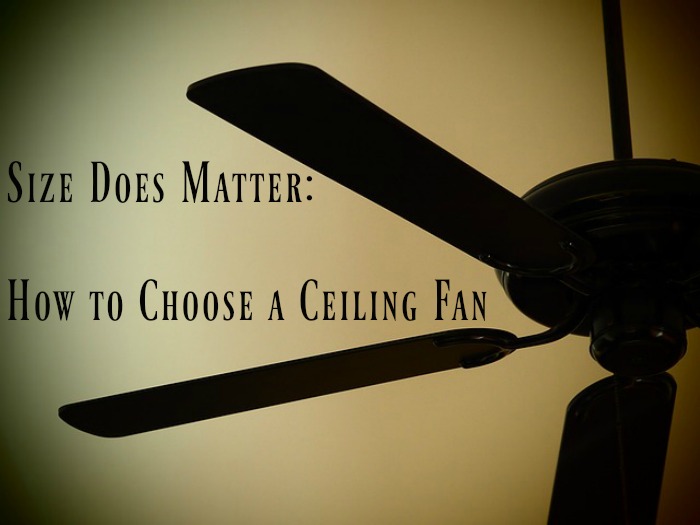 What's the Perfect Size?
A ceiling fan with a blade span of 29″ won't perform in the master bedroom with the same verve and vigor as a 52″ would. Why? Because again, it's all about the size. Size and room measurements contribute heavily to the performance of the fan.
This ceiling fan size chart below tells us which size wing span works best in our various rooms, including the bathroom, bedroom and closet.
| | | |
| --- | --- | --- |
| Blade Span | Interior Spaces(s) | Room Size |
| 29″-36″ | Restroom, Closets Breakfast Nook, Reading Nook | 75 sq. ft. max |
| 42″-48″ | Bedroom, Kitchen, Dining Room | 175 sq. ft. max |
| 52″-56″ | Master bedroom, Living Room, Family Room | 350 sq. ft. max |
| 60″-Larger | Great Room, Dining Hall | 350 sq. ft. minimum |
The reason your current fan isn't working could be because it's ill-suited for the space, not because it isn't a well-designed fan. Too often we replace our appliances unnecessarily because of user error, but we're about to change all that.
Many consumers prefer the 52″ model ceiling fan. It's a large fan and we've always been taught that bigger is better. When it comes to a ceiling fan, that really depends on the size of the space, as we've just learned. A 29″ ceiling fan does well in the restroom and breakfast nook, but it's not going to do much in the master bedroom or family room.
We naturally want our furnishings and fixtures to complement each other, but it's not just about color and texture, it's about size, too. Would a 52″ ceiling fan really look appropriate in the 75 sq. ft. guest bathroom? If you have ceiling decor, such as resin shapes hanging from the ceiling (see more about resin varia via https://www.3-form.com/materials/varia and similar websites), then a large ceiling fan wouldn't be appropriate. It's all about balance, and a ceiling can very easily be overloaded. The fan would dominate the space and make the bathroom feel small and cramped, making users feel uncomfortable. The last thing we want our bathroom to be is uncomfortable; bladder shyness is no fun.
How High Should I Hang It?
Any energy-saver knows that using a ceiling fan during those hot summer months helps to decrease that energy bill to a cool low number. Unfortunately, not a lot of us know how high to hang the ceiling fan or even in which room the fan would be most efficient. This is when getting the help of professionals works in our best interest.
SFGATE recommends that when in cooling mode, a ceiling fan should be hung eight inches from the ceiling. In a room with a right-foot ceiling, you will want to have at least 7'4″ from the floor-you won't want to bump your head our worry about an rotating blade accidents. When hanging your ceiling fan, the rule of thumb is that the blades should be a minimum of 7 feet above the ground. With this new information in hand, go out and get that fan, you know what you're doing!