From the 1980s to today, the colorful characters of the My Little Pony world have endured. These days, the enchanting equines are often found as a decorating theme in bedrooms, on backpacks and at birthday parties. There are several different approaches parents can take for hosting such a shindig, so let's get creative with some ideas.
Overall Plan
Because the My Little Pony characters hit on just about every color and personality note, there is a lot of variety in how you can interpret the theme within the party décor. Of course, there is no shortage of licensed My Little Pony party ware available in stores and online, but that might get pretty costly. You may want to go a little more generic and just incorporate the colors, characteristics and cuisine that give the basic feel you want.
Invitations
You can add pizzazz to the party invitations by using theme-appropriate wording and images. For example, you can ask Pony Party invitees if they plan to Make Magic (attend) or Say Neigh (decline). A rainbow or cute pony sticker on the corner of each card can be a special touch.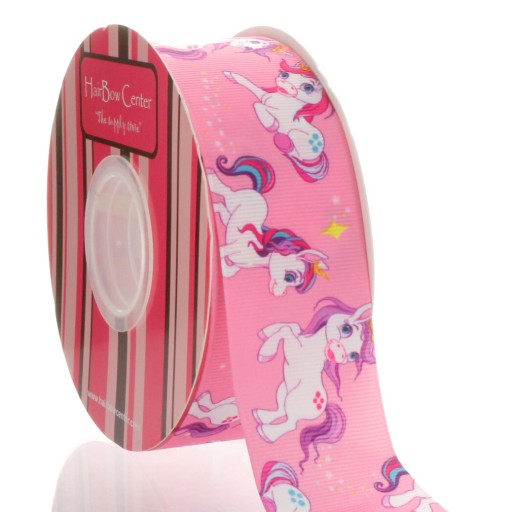 HairBow Center Pretty Ponies Ribbon
Color and Decor
If the birthday celebrant has a preferred pony, it's logical to focus on the features of their favorite. Say, for example, that she loves Rainbow Dash. The character lends itself to rainbow decorations or single items in any of the basic colors of the rainbow. This goes for the menu and beverages as well. You can use any solid color tablecloth you like and maybe add some My Little Pony grosgrain ribbon around the edge for a special touch.
Consider Costumes
Depending on the age of the birthday child, young guests may enjoy dressing up in the pony theme. Consider providing ears, tails and hooves for them to don during the festivities. Other accessories such as ribbon wands or unicorn horns may be fun as well.
Activities
Continuing with the Rainbow Dash theme, consider having running races – "dashes" – as one of the activities, or have guests play Pin the Cloud on the Rainbow. Usually, younger children don't need a lot of structured games – they are happy to just play and run around. Older kids may need some distractions, so be prepared with options such as a piñata, cupcake decorating station or coloring pages.
Colorful Cuisine
A rainbow theme allows for the inclusion of all types of food, just be sure to arrange it in the proper color order! Don't forget to incorporate the cake, cupcakes or candy bar into the color scheme as well.