It is every mom's goal to see her kid/s well, be able to pursue their own path and to fulfill their dreams. Not every mom is able to fulfill this wish as everyday approximately 250 kids around the world die from cancer.
Childhood cancer is the leading cause of death by disease in children under the age of 15 in the U.S.
The estimate is that every year 263,000 new cases of cancer affect children under the age of 20 worldwide, so that's 720 new kids affected everyday. Out of that number, 91, 250 lose their life to the disease every year. This is a staggering fact.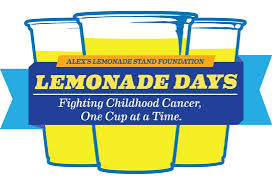 About Alex and Her Lemonade Stand

On her first birthday, the doctors informed Alex's parents that if she beat her cancer it was doubtful that she would ever walk again. Just two weeks later, Alex slightly moved her leg at her parents' request to kick. This was the first indication of who she would turn out to be – a determined, courageous, confident and inspiring child with big dreams and big accomplishments.
1 in 330 children will be diagnosed with cancer by the time they are 20 years old
By her second birthday, Alex was crawling and able to stand up with leg braces. She worked hard to gain strength and to learn how to walk. She appeared to be beating the odds, until the shattering discovery within the next year that her tumors had started growing again. In the year 2000, the day after her fourth birthday, Alex received a stem cell transplant and informed her mother, "when I get out of the hospital I want to have a lemonade stand." She said she wanted to give the money to doctors to allow them to "help other kids, like they helped me." True to her word, she held her first lemonade stand later that year with the help of her older brother and raised an amazing $2,000 for "her hospital."
Childhood cancer occurs regularly, randomly and spares no ethnic group, socio economic class or geographic region.
While bravely battling her own cancer, Alex and her family continued to hold yearly lemonade stands in her front yard to benefit childhood cancer research. News spread of the remarkable sick child dedicated to helping other sick children. People from all over the world, moved by her story, held their own lemonade stands and donated the proceeds to Alex and her cause.
The causes of most childhood cancers are unknwon and are not strongly linked to lifetsyle or environmental risk factors unlike many adult cancers
In August of 2004, Alex passed away at the age of 8, knowing that, with the help of others, she had raised more than $1 million to help find a cure for the disease that took her life. Alex's family – including brothers Patrick, Eddie, and Joey – and supporters around the world are committed to continuing her inspiring legacy through Alex's Lemonade Stand Foundation.


How we can help?

We can help by continuing what Alex has started.
less than 5% of the federal government's total funding for cancer research s dedicated to childhood cancers each year
In accordance with Alex's Lemonade Stand Foundation's mission which is to raise money and awareness of childhood cancer causes (primarily research into new treatments and cures) and to encourage and empower others, especially children, to raise money for childhood cancer by holding their own Alex's Lemonade Stands, we are called and challenged to become part of this good cause.
First, you can fundraise. You can set up your own lemonade stand. Visit LemonadeDays.org and register by June 5, 2015 to request a free fundraising kit and to access downloadable materials for your own lemonade stand. The kits include needed materials; posters, banners, thank you notes, fundraising tips, and more.
Second, your generosity will also be really appreicated should you decide to make a donation, should you decide to know where your money goes. All funds raised go directly to Alex's Lemonade Stand Foundation for Childhood Cancer Research, a registered 501c3 charity. Careful distribution of grants allows doctors to bring the latest and most promising life-saving treatments to seriously ill children. These grants provide hope for childhood cancer patients.
Third, you can shop thru Alex's Lemonade Stand online shop.
A little act can make a big difference!
* This post is written in participation to Bloggin' Mamas Social Good Campaign.