* I am a Feld Family Activator, and in exchange for my time and efforts in attending shows and reporting my opinion within this blog, as well as keeping you advised of the latest discount offers, Feld Entertainment has provided me with complimentary tickets to Feld shows and opportunities to attend private Feld pre-show events. Even though I receive these benefits, I always give an opinion that is 100% mine.
I remember during my "younger" years, I had this fascination for four-wheel drives and big trucks, I even enjoyed watching off-road driving programs and shows on tv. I also remember ever dreaming of driving and owning one in the future(sigh!).
If you are (or once had been) like me then it is time to witness a show that offers a performance not of people as performers but of performers on four wheels.
Watch Out for Monster Jam at Levi's Stadium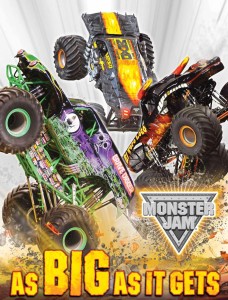 Monster Jam® is the most exciting form of family motorsports entertainment on the planet. The stars of the show are the biggest performers on four wheels: the Monster Jam trucks! The twelve-feet-tall, ten-thousand-pound machines will bring you to your feet, racing and ripping up a custom-designed track full of obstacles to soar over – OR smash through.
The 2015 touring season brings more Monster Jam excitement providing entertainment tailored perfectly for your family's budget, and these colorful, larger-than-life beasts are sure to capture the hearts of both young and old.
The Show

Monster Jam® will be live at the Levi's Stadium on April 11, 2015 at 7PM.
Levi's Stadium
Address : 4900 Marie P DeBartolo Way, Santa Clara, CA 95054)
Contact Number : (415) 464-9377
Exclusive Savings

Save $5 on adult tickets using the code : MOM which expires on 4/10/15. Kids tickets are always 50% off (no qualifier needed).

Note : Savings valid on regularly priced $40, $35, $30, and $20 seats. Savings not valid day of show. No double discounts
To take advantage of this Exclusive Savings purchase your tickets thru ticketmaster.com by clicking this link or by calling 800-745-3000 Venue Box Office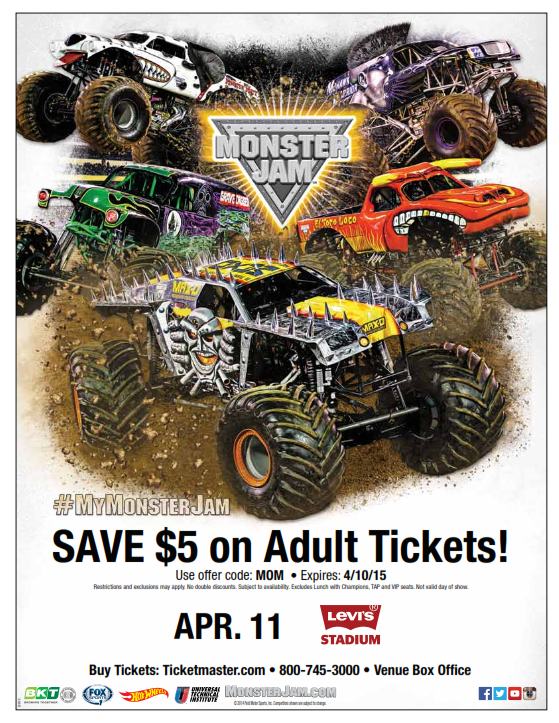 Here are some amazing Monster Jam Trivia

How long is a standard stadium Monster Jam freestyle run?
Answer : 90 seconds
What is the body of an Monster Jam truck made of?
Answer : Fiberglass
What does a typical Monster Jam truck weigh?
Answer : 10,000 lbs
How much horsepower does a Monster Jam truck have?
Answer : 1500 HP
How tall does a typical Monster Jam truck stand off the ground?
Answer :12 feet
How tall is one tire on a typical Monster Jam truck?
Answer : 66 inches
How many tons of dirt are needed to construct a Monster Jam stadium track?
Answer : 4300 tons