One thing I always try to do with my mum blog is to make it a little bit different.  This is not that easy to do – when you are a mum, most of your days are the same and you have to deal with the same issues over and over again.  However I do try to find the humour in it all and pass this on to others so that they can also get a break from the same old routine.  I've noticed in a few dad blogs that this is something that they also try to do and I've found a few 'must-reads' on my regular trawl of the internet.
www.dadcentric.com
If the same point of view becomes tiresome, try this blog which brings together a group of talented writers (all dads, of course!) and gives you the chance to get many different perspectives on the issues facing dads today.  There is humour in abundance so if you need to lighten the atmosphere give this one a try.  Blog posts can be found here on all kinds of subjects, not just parenting.
www.dadwagon.com
This is definitely one for the humour enthusiast.  One particular post compares being a father with Doctor Who – a must-read for the sci-fi fan concerned about his parenting abilities.   Parenting is not the only topic on the table though.  Cars, salaries and anything else you can think of gets a mention here, making it a great blog for those who want to forget about parenting for a few minutes too.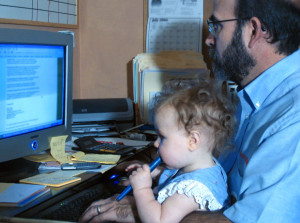 www.metrodad.typepad.com
Not everyone wants to read a dad blog which seems to have all the answers and it is good to know that there are others out there admitting that their parenting skills are not perfect and even asking for advice. The writer of this blog has shared a lot of his parenting experiences with the reader (how do you get three children to all eat the same things?  Answers on a postcard please…) and is great for an insight on step-families and how that can work.
Encouraging a family to be a bit more active is not easy and finding different activities to boost their enthusiasm is also not easy.  With blogs like this one, finding something for the whole family to enjoy together just got a little easier.  Camping is a great – and inexpensive – way for the family to get a break from the home and with plenty of hints and tips here, it can be a great experience.  There are plenty of other blog entries on the site, written by a dad with first-hand experience of the issues every parent faces so you should definitely take a look at this.
Not every dad (or mum!) blog talks about feeds, nappy changes and behaviour patterns.  Sometimes we need to lighten the mood and find something in the daily routine that can make us smile whenever we think of it.  If my blog ever gets a bit too samey with routine stuff, be sure to let me know!