Summer is here! Have you planned for the activities you and your kids will enjoy? Here's another great event from AMF.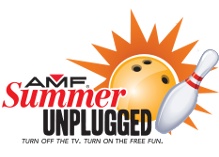 KIDS BOWL FREE ALL SUMMER!
Summer fun is just around the corner, and so are we. Sign-up for Summer Unplugged and Summer Pass now!
Free bowling for kids all summer long! Kids registered in the Summer Unplugged program can bowl two games per day, every day, all summer long!
Sign up today! https://freebowling.amf.com/?source=USFAMILY