I was given the chance to review here in My Charmed Mom, The Brio Duck Pull along Wooden Toy from Hello Baby. When I was asked to choose between two products-this wooden toy duck and a plushie, I was hesitant to choose this toy at first since I saw on the website that it was categorized for boys but later on decided to still go ahead for this one assuming that Ceana will love the duck as she have loved her rubber duckies.
We received the box on Thursday, not knowing what to expect here is what we received: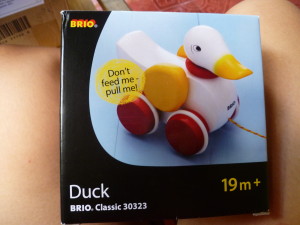 The box was heavy as compared to other toy boxes, knowing that it contained a wooden toy inside but despite all of this my little princess didn't mind and was excited to find out what's instore for her. Let me mention also that I noticed the branding on the box which says "Don't feed me-pull me!".
The toy inside was nicely wrapped and cushioned to ensure its integrity during handling and shipping. Alas!
The moment the duck was taken out of its box, a wooden toy came out. If you are a toddler like my daughter, I bet this duck will also catch your attention since it was beautifully crafted and appeared in bright colors. You will see that there's a string for the purpose of pulling it.
Ceana has actually no preferences yet for a toy-or least that I know of. She plays with everything she has most especially if it is colorful. That being said, I know initially that she will enjoy playing with the toy because she always pulled her old walker like a pet around the house. When I showed her how the duck comes into action, she was so excited and she pulled the toy everywhere she went, even calling her "acky" short for "Ducky". I was planning of taking a video of her pulling the toy but was not able to capture one.
My daughter's curiosity was piqued by the reds and yellows of this beautifully and brightly colored duck. You can actually see that it was carefully made as based on the smoothness and luster of its equally painted surface. It is made of hard and good quality wood so the toy's durability was out of the question. No doubt it can last a long time. You
The duck when pulled, flaps its wings in circular motion and move its head from side to side. It creates a clicking sound which entices the child interest over it. The string used to pull the toy is made of durable material and was attached securely to the body so you will not worry of the toy getting detached from the string.
Overall, I can say I like the product because it reminded me of my childhood when toys are much more simple and less complicated-that is, not battery operated or RC controlled. I also like the very simple mechanism employed in the toy. I would have these types of toys as compared to "high tech" ones since I believe that these types promote the use of more imagination during playtime which in turn will help a child's creative development. I feel that toys of this type are very suitable for Ceana and her age ( toddler) since it also stimulates color recognition and is just right for their age and its level of functionality.
The Brio Duck Pull along Wooden Baby Toy is available from the online nursery shop Hello Baby. Hello Baby also sells a wide range of other baby and nursery stuff including Baby Toys, nursery furniture, baby travel and baby safety products. This toy sells for £11.99 or approximately $19. Hello Baby is UK based but ships worldwide. You can go ahead and check their website and follow them on their Facebook and Twitter pages to find out about more of their products.
Disclaimer : I have received the above-mentioned products free for the purpose of review. However the opinions and views expressed in this post are all my own.