Ready for a change, but not prepared for a large scale overhaul? Here we look at some easy living room improvements, including quick furniture transformations, basic style swaps, and no-cost or low-cost refreshes.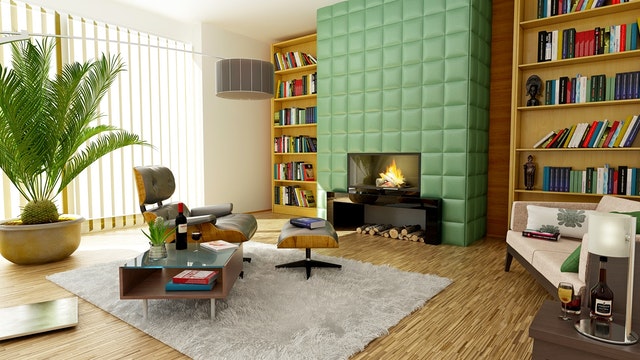 Look at how your coffee table fits in with the room
Create a unified aesthetic in your area by incorporating colors or finishes from the room's focal point; the coffee table, throughout the rest of the decor. For example, ornate candle holders that have been placed in a neutral serving tray on the table  Are you unsure about where to begin with your coffee table transformation? Classic novels, fresh flowers, and beloved vacation souvenirs are all good choices for elegant looks.
Hide the clutter
A small amount of storage may make a significant difference in the appearance of a living area. Store little toys or office materials in extra big glass containers that you have lying around. Large baskets or boxes can be used to stylishly conceal papers and periodicals. To make it easier to access them, stack them on a bookshelf to save on floor space.
Update your artwork
Are you stuck in a fashion rut? Simply swap out the images or paintings in your living room to make a new look. Keep your gallery wall arrangement or picture frames in place and simply swap out the images for new artwork of the same size for a quick and easy fix. This will make it simple to achieve a fresh look in your living room with little work on your part.
Introduce a rug to the space
It is possible to update a conventional living room without having to replace pricey furniture or paint the walls entirely. A vibrantly patterned area rug adds a splash of color and flare to the floor. Layering a smaller rug on top of a larger area rug will add depth and dimension in terms of size, color, and texture. It also brings in an element of warmth.
Reorganize the furniture
Are you working with a limited budget? The best ideas will not have you reaching for your purse. Rather than going to the store, you could rethink your current living room layout.  Breaking the rules is a good place to start. Pull your sofa away from the wall, or bring your rattan patio furniture inside for the winter months. It does not matter whether you have a small and intimate space or a large open plan space, whether you tend to congregate around a television, or enjoy quiet conversation; a new layout can inspire and invigorate a space.
Recover your couch
Ideas do not have to be centered around out-of-date furniture. A simple covering in a neutral hue provides a blank canvas for adding elegant accessories to your area. In the spirit of experimentation, consider dip-dying the slipcover to create an ultra-trendy ombre look. Fill the couch with a slew of brightly colored pillows in a variety of sizes and textures for a striking appearance.
Chuck in some pillows 
Throw pillows may instantly update the look of your living space in an instant. Throw pillows, despite the fact that they may appear to be an afterthought, are an excellent way to experiment with different patterns and colors without making a huge commitment. Keep seasonal pillows that are associated with the holidays in storage until you are ready to swap them out.
Create a feature wall
If you want a big change, choose one wall in the room to turn into a feature wall. This does not have to be a big job or involve any structural changes. A lick of bright or bold colored paint, or some funky wallpaper from this website can make a huge difference to the way that a room looks. 
Add some greenery
Adding plenty of lush, green houseplants to your living area will transform it into a setting that is both pleasant and healthy. Small trees instantly transform a bare space into something stylish, while potted indoor types refresh surfaces such as side tables and consoles. Additionally, it raises the amount of oxygen in a room while decreasing the amount of carbon dioxide, making it a win-win situation all around.
Consider your window treatments
New blinds and curtains can instantly change the way that a room looks. Even new tiebacks can completely transform the appearance of your living area.
Change the lighting
It is possible to set an atmosphere with lighting, make a tiny area appear larger with lighting, and illuminate a color scheme by using lighting. In order to lighten a dreary living area, consider replacing existing light bulbs with LED models. Exchange lampshades or incorporate a new ceiling fixture – these are all inexpensive ideas to refresh your living area lighting. Choose a floor lamp with a cylinder shade that uniformly distributes gentle light to create a calming atmosphere in your home. Find a light fixture that focuses light to a specific place, such as a reading nook, if you want to provide targeted illumination.
Reupholster a chair or sofa
Reupholstering a worn chair with good foundations is a simple and inexpensive way to bring it back to life. Make sure to choose a fun fabric and put your imagination to work in order to give thrift store treasures a fresh look. Keep scraps of the fabric you will be using to reupholster your furniture piece in a safe place. It can be used as curtains, a pillowcase, or as artwork when framed properly.
Organize your shelves
Consider rearranging your bookshelves to give your living space a fresh look at no expense. Collect a variety of collectibles in a similar color scheme and arrange them amongst books to create a sense of loose symmetrical arrangement. Other options include grouping books together by color or showing collections in groups of three books each. To freshen up your bookcases before deciding on an arrangement, consider painting the shelves and attaching sticky paper to the back of the storage unit to give them a new look.