Ah, the kitchen. The "hub" of the home, kitchens are high-traffic areas in need of durable flooring that can take spill after spill and remain in good condition. They also must deal with the the pans and bowls that accompany spills, and not dent and scratch as a result.
If renovating your kitchen and wondering what flooring option is best for your needs, check out the following options:
Vinyl
Vinyl flooring is ideal for those who cook frequently, as such flooring is very durable in addition to affordable. Waterproof and stainproof, you won't have any trouble cleaning spills from vinyl flooring, nor fret over possible dents and nicks. It requires little maintenance other than the occasional sweep or mop, and comes in a variety of colors and patterns. Textured options do a fantastic job of mimicking stone and ceramic tile in addition to providing excellent traction. It also provides a wear layer that' s resistant to scuffs and scrapes. However, vinyl flooring is very slippery when wet.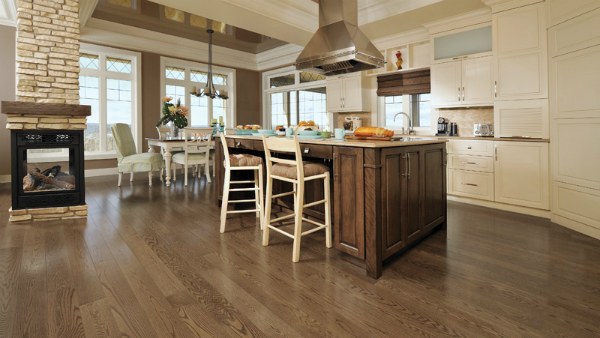 Tile
One of the more expensive kitchen flooring options, tile is nevertheless durable and water-resistant. It combats spills and dropped pots and pans incredibly well, yet it's hard under foot in addition to running up installation tabs.
Linoleum
Another waterproof, durable kitchen flooring option, linoleum is similar to vinyl in regards to colors and styles. An eco-friendly flooring possibility thanks to asbestos-free innovations, linoleum isn't as durable as its vinyl counterpart.
Cork
Warm and soft underfoot, cork easily absorbs sounds and isn't too expensive to install. A natural material and therefore environmentally-friendly, cork will fade over time, especially if exposed to direct sunlight. It also swells in standing water and is subject to staining, however it's a cushion-tastic, inexpensive kitchen flooring option.
Engineered hardwood flooring is also a kitchen possibility, as such floors are designed to withstand moisture.
For more on flooring types, check out GoHaus today.