Family.me, a private social network bringing families together to discover, share and preserve memories, launched on February 10. The site combines the real-time and collaborative sharing capabilities of social networks with the latest tools in family tree-building and record search to help families sustain their legacies.
Research shows families that understand their history are happier, have stronger relationships and more grounded children. Family.me empowers users to discover their legacies and share past and present memories through building a family tree, searching historical records and adding present memories.
Many Americans have lost sight of their heritage. One-third of Americans cannot name any of their great-grandparents and 22 percent of Americans don't know what either of their grandfathers did for a living. Despite this lack of knowledge and decline in oral storytelling, many Americans express interest in knowing more about their families.
Family.me revives family storytelling through a safe, intuitive social network.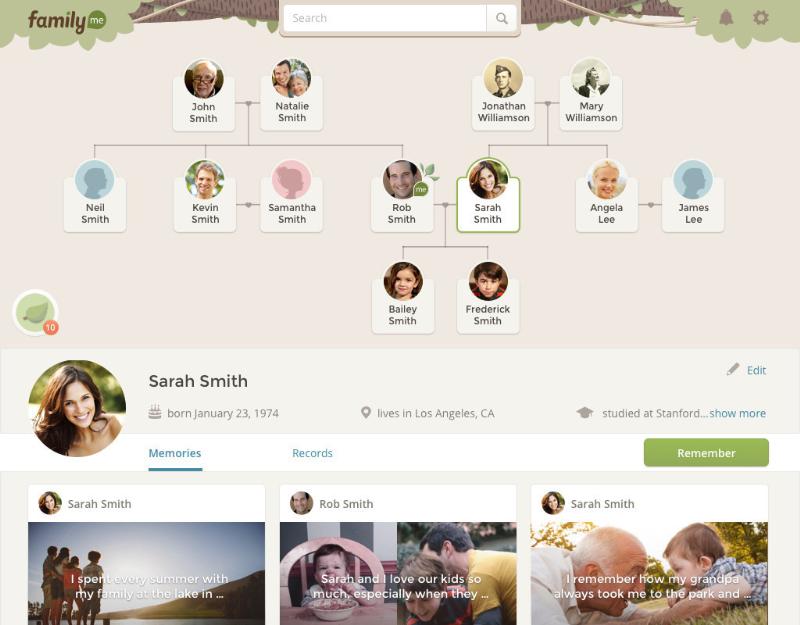 The free website includes the following key features:
Tree Builder – Easily add relatives' names and relationships to the virtual family tree and map out family history.
Invite Family Members – Invite relatives through either the social network importer or an email invitation and work together to research the past and document memories.
Memory Sharing – Share photos and more with your family members. Upload your favorite childhood photos or document memories and share them as they happen with the mobile app.
Record Search – Search millions of birth, death, war and marriage files to learn about ancestors. Records include more than 70 years of US Census and social network data.
Mobile-first Design – Family.me's mobile-first design brings genealogy and family-focused technologies together in ways that are current for today's families, whether they are always on-the-go or spread throughout the country.
Family.me is working with the non-profit family history organization, FamilySearch, to make more than one billion of FamilySearch's historical records available to Family.me users, while also making Family.me's easy and collaborative tools available to FamilySearch members.
The first 10,000 users to sign up for a Family.me account will receive special benefits for life, including free record searches and more.
For more information and to begin a family tree, visit www.family.me.