Baby time is so much fun, but understanding all the different items you need can be a bit daunting. There are so many products to choose from. There are so many products you don't really need but you are made to want by television ads and in-store sales people.
By now you've probably got the hang of feeding time, sleep time and you've figured out what kind of a car seat you need. But what are baby bouncers and do you really need one?
Actually, a baby bouncer or swing is a great item to keep your baby busy or to soothe them. So if you're tired of putting your baby in the car seat and driving around the block to get him to calm down, then maybe what you need is the right baby swing or bouncer. A good bouncer helps an active baby release extra energy and helps little ones strengthen those leg muscles. Baby swings relax babies so they can fall asleep.
Let's take a look at some of the things you need to think about when making your purchase, whether it be new or secondhand on a site like Gumtree or Baby Ads.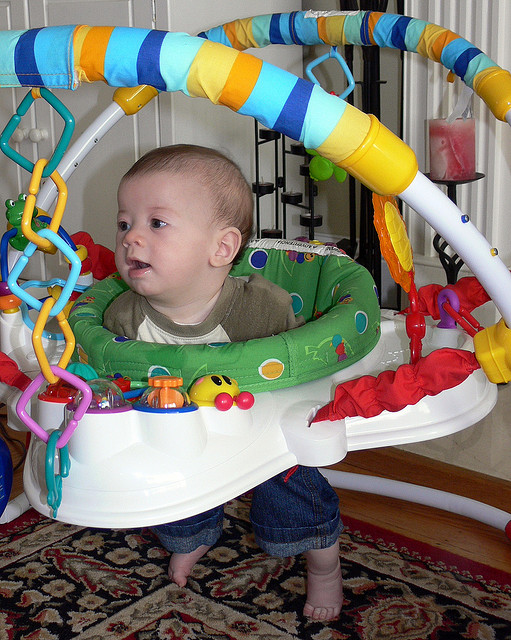 Weight
Babies obviously weigh different amounts, and some are larger than others; you know if yours is a monster. If your baby started out large and gains weight quickly then a bouncer made for weights of up to 15 pounds may not be the best choice. Look at the bouncer or swing spec sheet to see the weight limit set on them. There is useful information about weights of children here.
Reclining Feature
Some bouncers have a reclining feature in the bouncer seat. Others just have one position. An upright position may not work for a baby that doesn´t have great head control yet. If your baby is still trying to sit up then look for a bouncer or swing that has a flatter recline for newborns. Choose a more upright position for older babies who want to sit up and see the world.
Check for Safety Features
Bouncers and swings should have important safety features like safety belts and strong straps to keep baby in place without injury. A safety harness should adjust easily to help keep wriggly babies in place. These baby devices should also have anti-skid material on the bottom feet to keep them from sliding. You´ll also want to make sure the swing or bouncer has extra padding around the structure so the baby can´t hit his head against a hard frame.
Extra Features
Some Bouncers and swings come only with the seat and frame. But others have additional features like iPod connections, a vibrating feature or special music. The vibration works for soothing babies who have stomach problems. The music offers soothing tunes to help baby fall asleep. And some even have toys attached to draw your baby´s attention.
Look for Portability
There are swings and bouncers that are also more portable than others. Once a baby likes his bouncer then you want to be able to take it with you. Check to see that the bouncer or swing you choose can be folded for storage or travel.
Style
Look for bouncers with vibrant colours and themes that interest babies. Studies show that babies are drawn to loud vibrant colours. This is why bouncers and swings often have animal or caricature themes.
Easy Maintenance
Make sure that any bouncer or swing you get is made of a material that you can easily clean. Babies make messes and you need to be able to clean them up. Preferably you want an item that has a removable seat as this makes it easier to clean in the crevices.
Effective Bouncing
You also want a bouncer that really does offer some baby bounce. Some bouncers don´t offer that much bouncing scope, which means it isn´t as effective as a bouncy bouncer.
Final Thoughts
Before you purchase a bouncer or swing for a baby make sure you read up on all its features. You might also want to read a review or two about the manufacturer and the specific product. This can give you insight into what you can expect. Don't let your little ones over do the exercise, but help them develop by providing them with the tools they need.