* I was provided complimentary Del Taco gift card and some information to facilitate this post.
On January 2, Del Taco introduced Turkey Tacos, making the company the first Mexican fast food chain to offer ground turkey as a protein option. Del Taco's Turkey Tacos feature lean, seasoned ground turkey that has 33 percent less fat than its seasoned beef yet offers the same craveable flavor. Each Turkey Taco has only 150 calories. Del Taco is also offering a Turkey CrunchTada Tostada, an extension of their popular CrunchTada product line.
We went to Del Taco to try out this Turkey Tacos for ourselves and this is what we experienced.
Priced at $1.29, the new Turkey Tacos are served in a crunchy corn or warm flour tortilla with freshly grated cheddar cheese, crisp lettuce and pico de gallo, made fresh daily at each Del Taco location.
The Turkey Taco Meal, priced at $5, includes two tacos, chips with fresh pico de gallo salsa and a drink. When paired with a diet drink, the Turkey Taco Meal has only 430 calories. The product extends Del Taco's line of "UnFreshing Believable," high quality, great value menu selections.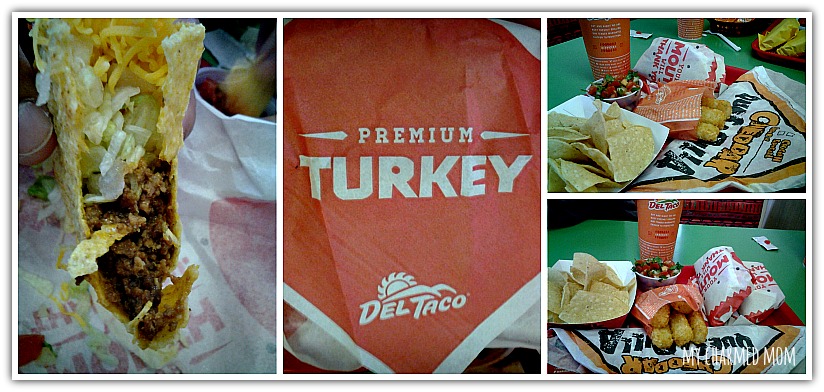 The Turkey Tacos and Turkey CrunchTada Tostadas feature layers of fresh ingredients cooked, chopped, and grilled in Del Taco's kitchens throughout the day:
Freshly made pico de gallo
Freshly-grated cheddar che

ese

Lard-free beans slow-cooked from scratch

You can check out and follow Del Taco on their Social Media accounts :
Web: http://www.deltaco.com
Raving Fan eClub: http://www.DelTaco.com/RavingFan
Facebook: http://www.facebook.com/deltaco
Twitter: https://twitter.com/deltaco
Instagram: http://instagram.com/deltaco
Pinterest: http://www.pinterest.com/deltaco/

About Del Taco
At Del Taco, all menu items taste better because they are made to order with fresh ingredients including cheddar cheese grated from 40-pound blocks, handmade pico de gallo salsa, lard-free beans slow-cooked from scratch, and marinated chicken grilled in the restaurant. The menu includes classic Mexican dishes such as tacos, burritos, quesadillas and nachos as well as American favorites including hamburgers, crinkle-cut fries and shakes.
In 2013, Del Taco announced a rebranding effort and the "UnFreshing Believable" advertising campaign to communicate the lengths the company goes to in order to deliver quality, made-to-order menu items created with freshly-prepared ingredients. Del Taco also serves breakfast featuring a full line of breakfast burritos.
Del Taco has 547 restaurants in 18 states serving more than three million guests each week. Consumers can receive coupons for free food by "liking" Del Taco on Facebook at www.facebook.com/deltaco or joining the Raving Fan eClub at www.DelTaco.com/RavingFan.
For more information, please visit www.facebook.com/deltaco or www.deltaco.com.