* I participated in this event on behalf of Wendy's Bloggers for Fischer Pharmaceuticals Ltd. I received Dr. Fischer products to facilitate my review.
As parents, we always want the best and the safest products for our children. Our kids have the most sensitive skin and therefore needs the gentlest proper care.
Dr. Fischer (by Fischer Pharmaceuticals), founded in 1965, is a multi-national manufacturer and distributor of a large variety of high technological pharmaceuticals worldwide with special emphasis on various categories of dermatological products, wet wipes and nutraceuticals.
Fischer Pharmaceuticals is a world leader in the development and manufacture of advanced health care preparations in the fields of dermatology, opthalmology and nutraceuticals.
Its present chairman and company founder Dr. Eli Fischer, works with a committed team of scientists and had been responsible for the many innovative pharmaceutical and state-of-the-art products which are now an accepted part of the commodities landscape throughout the world.


I am very fortunate to have been given the chance to review some of Dr. Fischer's wonderful products. I was sent a box of assorted stuff :
Dr. Fischer EYE-CARE for Baby
Dr. Fischer Kamil Blue Moisturizing Soapless Soap
Dr. Fischer Sensitive Baby Wipes
Dr. Fischer EMOL Baby Bath Oil
Dr. Fischer EYE-CARE for Adults
Dr. Fischer limited edition Mommy Bag
plus

Dr. Fischer Genesis Skin Care samples of :

Sebo Right,

Age Control,

Sensitive Probiotic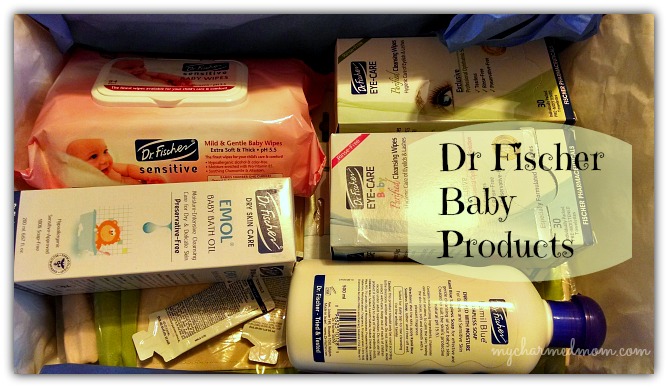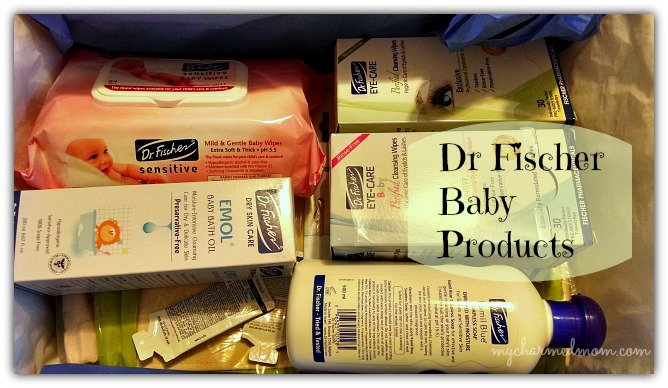 Kamil Blue Soapless Soap for Baby
Dr. Fischer's Kamil Blue is specially formulated to protect baby's sensitive skin and to gently cleanse and prevent dryness. It is perfectly suited to baby's natural skin protective pH (5.5) and leaves baby's skin clean, delicately fragrant, smooth and silky soft.
I like how easy it can be rinsed and the very mild scent that is just perfect for the baby. My daughter is already a toddler but she still smells so good after each bath that is because of the Chamomile and Azulene extracts. The moisturizing cream ingredient soothes and treats baby's delicate skin making it feel supple.
Dr. Fischer EMOL Baby Bath Oil has been specially developed to cleanse and protect a baby's skin against redness and dryness. The wash is extra skin-friendly – 100% soap-free, SLS and preservative free.
Eversince the weather has became colder, I noticed that my daughter's skin gets more dry after each bath and so applying lotion has became a must. Not when I used EMOL which is at the same time hypoallergenic, the skin is moisturized even after bath. It is enriched with herbal and mineral oils plus Vitamins A & E that will surely make your child's skin not only hydrated but protected as well.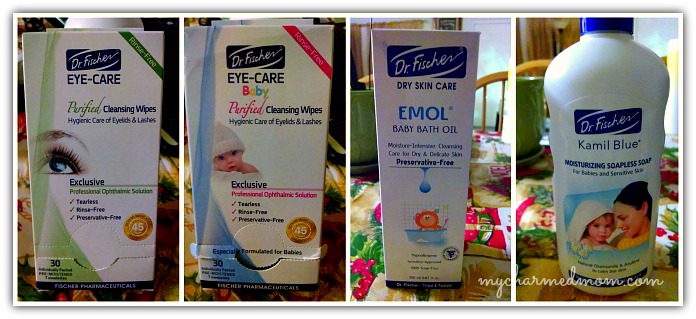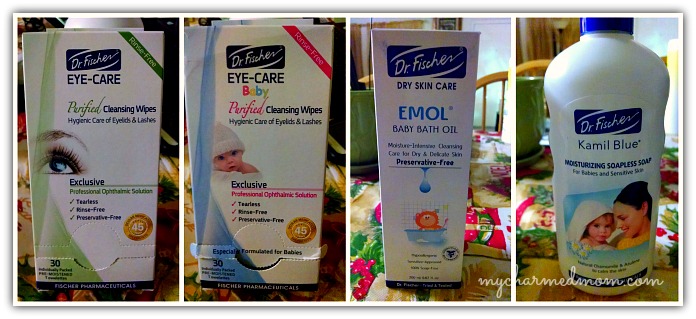 Dr. Fischer Eye-Care Baby Wipes are an exclusive, patented product from Dr. Fischer's research and development laboratories. Effectively and gently, Baby Eye-Care Wipes clean all fatty excretions, sticky crusts, scales, and flakes from the eyelids and lashes.
Honestly, I just use the plain baby wipes in cleaning my daughter's eyes and face especially after she wakes up in the morning until I received these wipes which are made of special fabric. It contains gently formulated ingredients and is preservative free as well. It ensures that cleaning of baby's and children's eyelids and lashes is efficient and easy.
Dr. Fischer EYE-CARE for Adults
Dr. Fischer EYE CARE Wipes are ideal for cleansing the eyelids and lashes of ocular secretions, crusted matter, scales and make-up in one easy action in the most hygienic and the healthiest way.
Dr. Fischer EYE-CARE are best for me when I experience eye irritation brought by my allergic rhinitis. These wipes ensure easier and more effective cleansing of my eyes especially on the delicate parts. Upon reading the product's description, I learned that same as the baby eye wipes it is also preservative-free and are recommended by ophthalmologists and dermatologists.
Both the eye wipes (baby & adults) are packed individually making it handy to bring anywhere and so I usually bring a couple pieces or more in my bag.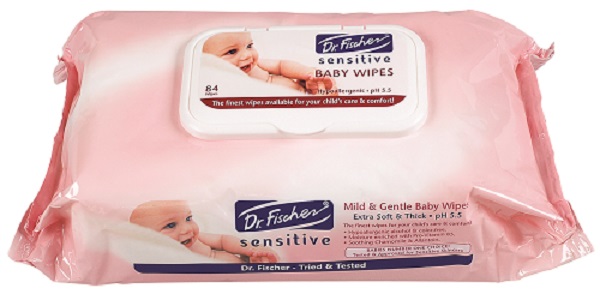 Dr. Fischer Sensitive Baby Wipes
Dr. Fischer Sensitive Baby Wipes are highly absorbent, alcohol and color-free, hypoallergenic, and tested and approved for sensitive skin.
I just love these baby wipes especially its mild scent. My daughter always smell so fresh after every use. It also has moisturizing properties which protect the skin from drying. It also has Vitamin A & E antioxidant which serves as protection against free radical. This is highyly recommended.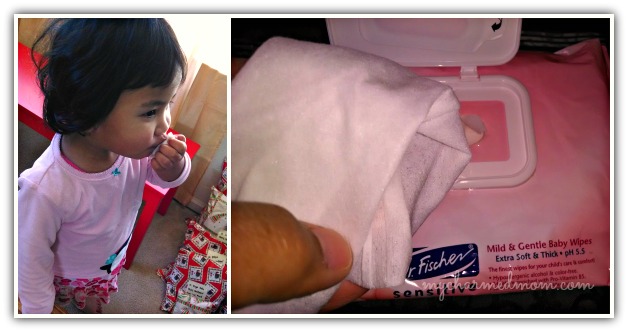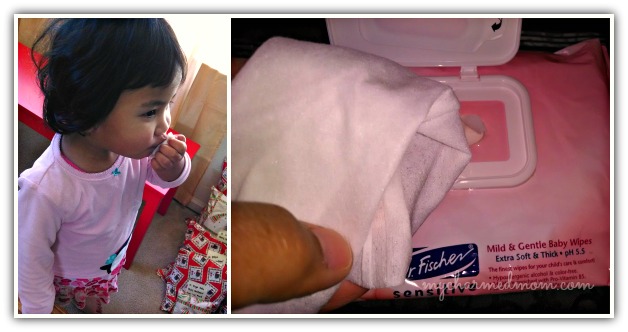 Overall, I have high praises for Dr. Fischer products, starting from the quality of the containers, the product itself and how effacious it is in terms of the use it is intended for. You can actually recognize that these products were fruits of careful planning, research and development.
Giveaway

Prize : One lucky winner will get a chance to win a Dr. Fischer Prize Pack ($75 value) same as what I have received.
Rules : One winner per household, email address or home address. If you have won this prize on another blog you are ineligible to win again. Winners must have a U.S.-based address to receive their prize.
Duration : Giveaway will run until January 3, 2014, 11: 59 PM PST.
Use the form below for your entries. Good luck!


I participated in this event on behalf of Wendy's Bloggers for Fischer Pharmaceuticals Ltd. I received Dr. Fischer products to facilitate my review. My Charmed Mom will not responsible for prize shipment.