Ever looked for a recipe you needed the most and can't find the notebook where you wrote it? Or did you accidentally throw in the trash the recipe you are going to cook for the weekend's event? Well you can actually compile all your recipes in one gadget, The Key Ingredient Recipe Reader can do that for you!
To get started with the recipe reader, you can set up a free account on KeyIngredient.com, where many different recipes are located. Be sure to "Cookmark" to your own collection and sync with your reader over WIFI. New recipes you add will be automatically synced. You can also add some of your own original favorites. Follow your favorite "cooks" or search by category if you are looking for a specific recipe. You can fit up to 4,000 recipes on the reader.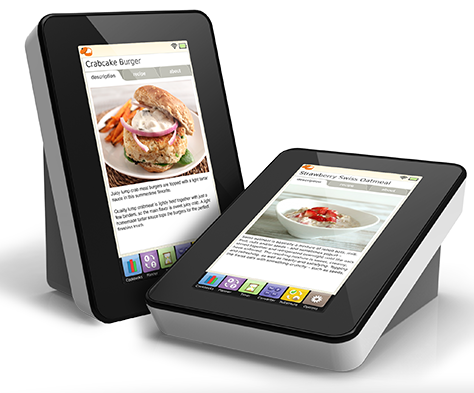 This reader has a ton of features that typical readers and tablets have, including a 7-inch shatterproof touchscreen, adjustable font size and automatic screen rotation. It not only includes your "cookbook" but you'll also find a planner, measurement converter, full list of common ingredient substitutions and three built-in kitchen timers. A search feature and categorizing is available to keep your recipes easy to find and organized.
This reader comes on a built-in stand that keeps it convenient for use in the kitchen in the middle of your fixins and it's also super durable and hands free. If you have an entire meal planned, you can add those recipes to the Short List so you aren't constantly stopping mid-meal to switch back and forth.
The Key Ingredient Recipe reader can be purchased for $149 on Amazon, the Key Ingredient Store or Costco. It makes a perfect Christmas gift for mom or any other loved one who loves cooking!
You can follow Key Ingredient on social media: Facebook, Twitter, Pinterest. The Key Ingredient App is also available in the Apple Store and Google Play if you use your phone or iPad to find recipes.
One lucky reader will win a Key Ingredient Recipe Reader! This giveaway is open to U.S. residents and will end on 11/27. Please enter on the Rafflecopter below. Good luck! a Rafflecopter giveaway
Disclosure: Participating blogs are not responsible for prize fulfillment. Prize will be provided by Key Ingredient.